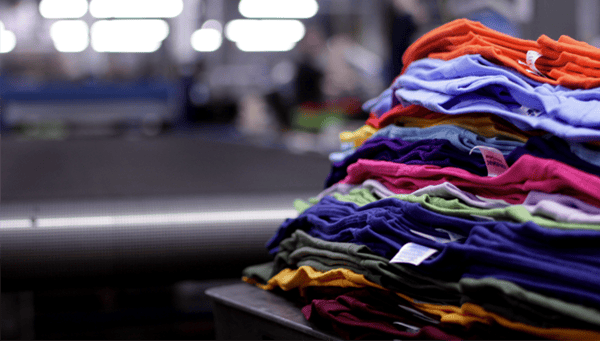 In 1955, James Dean donned a plain white tee in Rebel Without A Cause making t shirts a fashion staple. To say t-shirts have come a long way since then is an understatement. Now a staple of the promotional products industry, t-shirts have exploded in terms of styles available is even more complicated by the number of different fabrics on the market. In this article, we break down the differences between t shirt fabric options available today. Understanding the quality, cost, and important decoration aspects of each fabric can help you guide your client in selecting the perfect tshirt for the order.
Quality & Manufacturing
The main options available are distinguishable by how the cotton fabric was manufactured: carded open-end or ringspun. The manufacturing processes produce distinctly different fabrics in terms of softness and price.
Carded Open-End Cotton
Carded open-end (sometimes referred to as COE or C.O.E.) cotton is the original method used to manufacture cotton to be used for t shirt fabric. The process to produce carded open-end cotton uses shorter fibers that are bundled and wrapped by a perpendicular fiber. This process is more efficient so shirts made from this fabric tend to cost less, but the shirts are not as soft or smooth.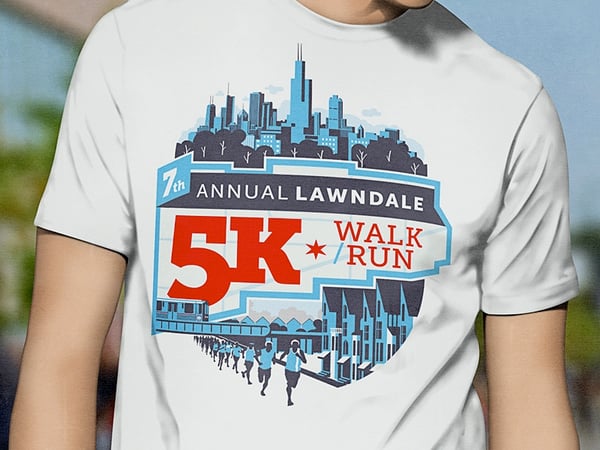 Some popular carded open end t-shirt brands & styles include:
Considering affordability and softness, COE manufactured cotton styles make a great choice for:
SWAG & give away promo t shirts. Shirts that may only be worn once.
Work uniforms & organization identity. Shirts that may need to be replaced frequently.
Youth programs & events. Shirts that will be grown out of.
Ringspun Cotton
The process to make ringspun cotton fabric uses longer straighter fibers spun in the same direction. This results in a smoother, softer fabric but the process is less efficient so shirts made from this fabric tend to cost more.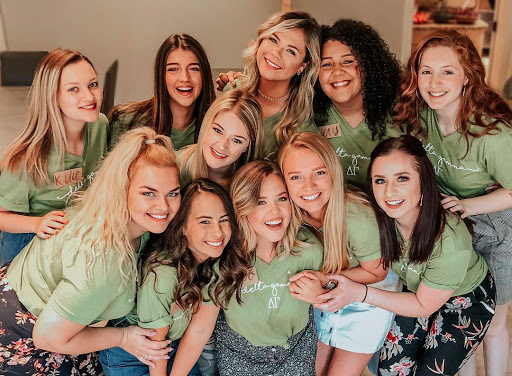 Some popular ringspun cotton brands & styles include:
Considering affordability and softness, ringspun manufactured cotton styles make a great choice for:
Group & organization membership. T-shirts that become part of a wardrobe.
Promotional packages & kits. Promotions that focus on best value.
Basic branded apparel collections.
Combed Ringspun Cotton
Another level up in terms of quality and price is combed ringspun cotton. Once the cotton fibers have been spun, they're combed to remove any impurities or perfect strands which produces a cleaner, smoother fabric than simply ringspun.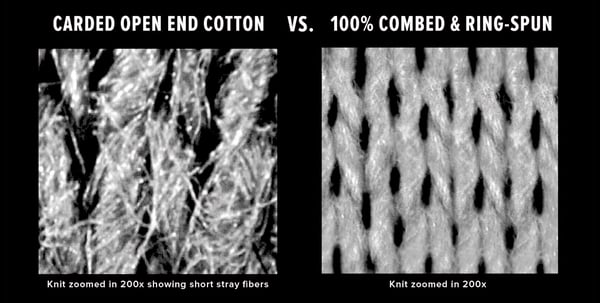 Some popular combed ringspun brands & styles include:
Considering affordability and softness, combed ringspun manufactured cotton styles make a great choice for:
Fashion forward campaigns.
Milestone recognition.
Quality & Types of Cotton
The process of manufacturing cotton into t shirt fabric plays a large part in how soft the garment will be. The type of cotton used in the manufacturing process also plays a significant role in the quality of a t shirt garment.
There are four basic types of cotton:
Upland
Pima
Egyptian
Organic
Upland cotton has very short fibers and makes up about 90% of the world's total cotton production. The crop is native to and grown in Central America, Mexico, the Caribbean, and southern Florida.
Pima cotton fibers are extra soft, extra long and considered some of the finest cotton in the world. The cotton is native to South America and the American Southwest. Pima cotton fabric is resistant to fading, tearing, and wrinkling. Pima cotton is often organic, typically ringspun, and tends to be used for higher end garments.
Egyptian cotton is the same scientific class as Pima (gossypium barbadense) and has the same extra long staple fibers and resistance to fading, tearing, and wrinkling. Egyption cotton, however, is grown in the Nile River Valley in Egypt. While comparable to Pima, Egyptian cotton is more often used in bed sheets than apparel.
Organic cotton is any type of cotton that is grown without the use of chemicals or genetic engineering. As with anything organically made, the process tends to be less efficient so these fabrics will cost more than the faster, more environmentally taxing counterparts.
Other Quality Measurements
To really dial in the quality of the t shirt garment you will have decorated, there are a few other factors to consider:
The singles count refers to the number of times the fabric is twisted into shape. A singles count for t shirts is comparable to a thread count for sheets. The higher the number, the finer and more luxurious the fabric. Typical COE t shirt fabrics are around 18-20 singles. Ringspun cotton fabrics are around 30 singles and beyond. A higher singles count also means fabric is less likely to fade, look fuzzy or tear. If you're looking at various combed ringspun t shirts, a singles count will cue you in on which to choose in terms of quality and price.
Weight refers to ounces per square yard in the US. Heavier weight isn't an indicator of quality, in fact, ring spinning cotton creates a much lighter garment. A heavier weight may actually indicate a garment lower on the quality spectrum. A heavier weight may also indicate a more affordable option.
Tubular t shirts are cut from tubes of fabric whereas t shirts with side seams are more tailored to fit a body shape. Since less sewing is involved, tubular t shirts are less expensive. The fit is more general and can be considered less flattering, but may be a great option if you are interested in printing a side wrap.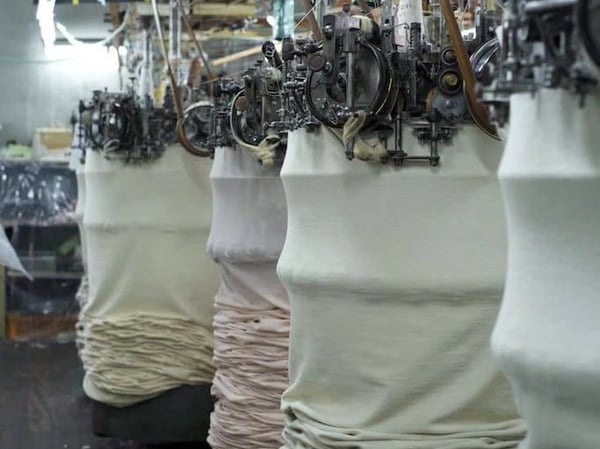 Quality & Blended Fabrics
Heather colors result from interwoven yarns of different colors & fibers. They are as popular, if not moreso, than solid color t shirts in the fashion and promotional apparel industry today. Since heather colors are blends of cotton and polyester fibers, how can we assess these garments against their solid, 100% cotton counterparts?
Heather Fabrics
Back when COEs dominated the tshirt fabric market, heather shirts were one of two shades of grey: ash or athletic heather (also known as sports grey).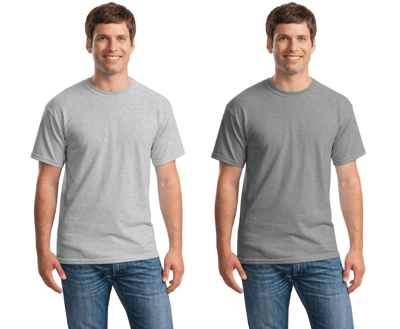 These days heather t shirts come in a wide range of colors.

Looking at the Gildan 5000 series (made from carded open end cotton), we can see that different colors are made from different blends of cotton and polyester:
ash - 99% cotton, 1% polyester
sport grey - 90% cotton,10% polyester
"antique" colors - 90% cotton,10% polyester
graphite heather, safety & neon colors - 50% cotton, 50% polyester
other colors such as lilac & midnight - 50% cotton, 50% polyester
Let's look at another Gildan style, the 6400 series (made from ringspun cotton):
sports grey & antique colors - 90% cotton, 10% polyester
other heather colors & blackberry - 35% cotton, 65% polyester
graphite heather - 50% cotton, 50% polyester
The ultimate in quality heather fabrics uses a CVC blend of fibers. CVC stands for chief value cotton and it means there is a higher percentage of ringspun cotton versus polyester in the heather fabric. These superior blend heathers are available from Next Level and BELLA + CANVAS. The BELLA + CANVAS CVC line includes heather prism colors that are 99% airlume combed & ringspun cotton and only 1% polyester.
A basic measure of quality can be assumed based on what kind of cotton is used in the blend and how much. Gildan's Softstyle 6400 in sport grey can be considered higher quality and cost a little more that the Heavyweight 5000 series by the same manufacturer. Heather fabrics using chief value cotton can be considered even higher quality and will also be priced higher.
Tri-blends
Tri-blend t shirts include a percentage of rayon along with the cotton & polyester components of typical heather shirts. Rayon was developed as a substitute for silk, so these garments have the comfort of cotton, durability of polyester and fabulous drape of rayon. They are without a doubt the softest and most luxurious blend to the touch.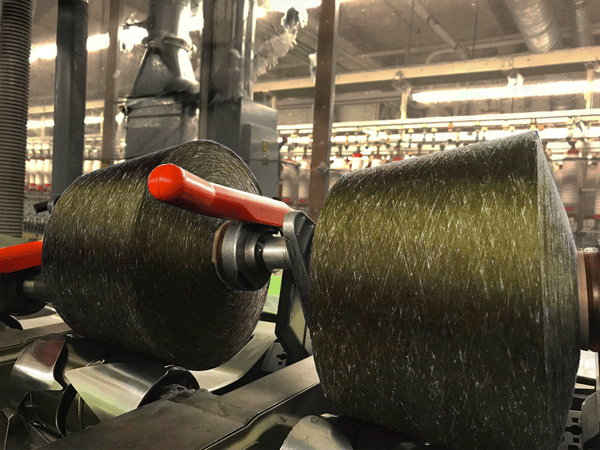 Tri-blend fabric is used in apparel from t-shirts to sweatshirts and most brands have some version of tri-blend garments available. Slub is tri blend fabric knit to maintain a tonal texture. It has an uneven surface and is slightly sheer.
Decoration Tips
When it comes to delivering custom apparel, printability is a consideration as important as the garment fabric you select. Whether you're screen printing or direct-to-garment printing on t shirts a smoother surface will typically produce a higher quality print.
It's important to note that designs with very large fill areas can cancel out the soft, comfortable nature of tshirts that feel great when you're wearing them. It takes well designed artwork, imprinted on a high quality garment to produce to very best in custom printed t shirts. If the design has medium to large fill areas, ask your decorator about soft-hand printing for the highest quality.
Despite the tactile advantages of heathers and triblends, if you're printing DTG or interested in discharge inks, pay special attention to the percentage of cotton in the mix. DTG inks are absorbed by cotton, but repelled by polyester. The same is true for discharge ink, since it is water-based. The prism series of heather colors offered by BELLA + CANVAS offer a more predictable print as they are 99% high quality cotton.
When it comes to embroidery all t shirt fabrics are great candidates. You may, however, want to consider requesting no-show backing especially when decorating the finer, ringspun and triblend varieties.
Choosing The Right T-shirt Fabric
Selecting the right t shirt for an order is simply a matter of determining the most important aspects of the finished garment for your client. With so many styles and blends available, quality and price are two of the biggest factors in determining which t shirt fabric fits the order best.