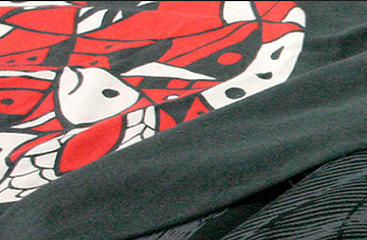 Discharge ink was developed specifically for soft-hand printing on dark garments. Discharge is a water-based ink that bleaches the garment weave while depositing pigment. The look of the final print is quite different from traditional plastisol prints. The end print is more muted, the colors are flatter, and the edges of the screen stencil tend to soften through the production run. Butt-to-butt registration is not guaranteed. Discharge is really great for vintage looking prints with lose designs. Tight logo style graphics aren't ideal for discharge printing.
This water-based ink is typically mixed with an activator. Activated ink bleaches the fabric fiber while depositing pigment directly into the fibers. Because the ink becomes part of the fabric, this technique produces the softest print achievable. The ink is slightly detectable after printing, but upon the first wash the print is completely undetectable to the touch.
There has been some really great improvements in the screen printing ink industry with ink additives and the onset of discharge printing. However, there is not a cut and dry solution for a bright print with a super-soft hand on dark garments. Exact colors cannot be specified and Pantone colors cannot be matched as print colors. These colors are affected by the fabric dying process and can vary from dye lot to dye lot.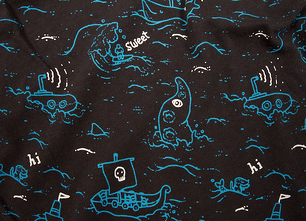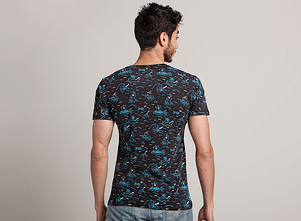 Here are a few quick tips when soft-hand printing via discharge inks:
Be flexible and enjoy the results

Expect hard edges to soften depending on the number of prints in a production run

Leverage design for a vintage style product

Print on dark shirts (100% cotton only)

Wash shirts prior to wear

Be aware that whites may be tinted by most fabric dye colors

Don't expect reprint orders to be exactly the same as the first run

Don't print on polyester or poly blends
In general, discharge is a very unpredictable process, that cannot hold a lot of detail. If you would like to screen print your custom design with discharge ink, be prepared to be super flexible with the results. Discharge printing can really be fantastic for certain designs, but the right designs are few and far between. Achieving soft prints on dark garments is not as straight forward, so when requesting a soft hand print on darks be sure to have a conversation with your decorator so you know just what to expect.