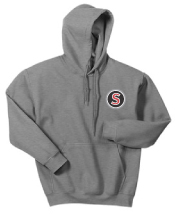 Custom made tees are a classic choice for company promotion, but there are lots of compelling reasons to look beyond the traditional t-shirt to some cozier options. Custom sweatshirts are a great promotional tool that can be used in many different ways. There are several events where a promotional item like this will be perfectly suited. Consider the following options for promotional sweatshirts.
1. Holiday Gifts
Show appreciation for employees this holiday season with custom sweatshirts. This is a comfortable, casual accessory that will get plenty of home use. With a creative design and promotional print, this piece of apparel will spread the word about the company everywhere it's worn.
While promotional apparel is often used as a tool for connecting with customers, it's just as effective on employees. In fact, staff members are better equipped than anyone to answer questions and promote the company's products and services to curious individuals who are intrigued by the flashy design or witty slogan on the shirt.
2. Team or Group Sponsorship
Getting involved in the community is the perfect way to increase exposure for a local company. Consider sponsoring an intramural sports team, club, or other local group. The company is then well-placed to provide participants with custom sweatshirts. Use a design that promotes both the organization or group in question, and the company as a sponsor.
In fall and winter months, sweatshirts will get lots of stage time. A tee might be lost beneath jackets and hoodies, but the warmth of a sweatshirt will keep it on top where it can be seen. Recipients will wear the shirts to show pride in their group while the company's sponsorship logo gets to tag along.
3. Company Picnics
Company picnics held in the summer months can be swelteringly hot and uncomfortable. Outdoor venues are more difficult to book in these peak months as well. Spring and fall are a much better time for outdoor events. In climates where these seasons get a little crisp and chilly, custom sweatshirts are the perfect solution.
The promotional sweatshirts will give employees a sense of unity throughout the event, and encourage a casual laid-back environment that may be very different from the formality of the office. Encourage staff members to get to know one another outside of work and build stronger connections that will later transfer to the workplace with fun picnics and other casual events.
4. Outdoor Events
Check the community calendar for outdoor events in cooler months. Companies can often rent a table or booth at fairs and carnivals. This is a great opportunity for handing out custom sweatshirts. Provide one for prospects that fill out a contact form, hold a raffle for the sweatshirts, or include one with merchandise purchases of a certain value of more.

Custom sweatshirts can even be sold as the product themselves, whether you're in the apparel industry or not. Attendees at outdoor events often realize a few hours too late that they may not have dressed warmly enough. Custom sweatshirts provide the solution they're looking for, while benefiting the company as well.
5. Trade Shows and Conferences
Trade shows and conferences are well known for providing lots of swag. Attendees will have an abundance of pens, note pads, and even tee shirts to take home at the end of the day. Custom sweatshirts are less common, however.
The comfortable warmth of a sweatshirt will get immediate wear in cool weather. The superior quality of this kind of product ensures that it will make it into the closet for plenty of future use as well.
Custom sweatshirts are a powerful promotional tool that's sure to foster a connection. Choose an eye-catching color and design so others will spot these shirts with interest as well. Including a web address and company name are all that's needed to bring new, curious traffic in with this promotional item.