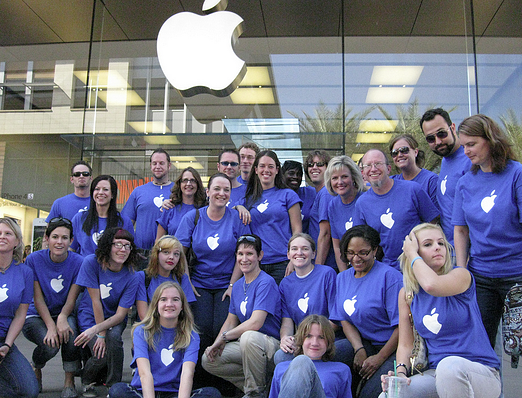 Promotional apparel can be a powerful tool when it comes to branding your business. Good marketing teams know the value of clothing with the brand name and image. These pieces will naturally travel great distances and act as conversation starters with a real live person behind them. Viewers can't ask a question to a billboard, but they can ask an employee about the company after spotting an eye-catching shirt. Here are some great ways to use apparel to promote business ventures.
Employee Apparel
Employee apparel is the simplest way to use promotional apparel because employees are required to wear it. To get the most out of this type of clothing, go for a look that's distinct and well branded with colors and logos that are easily identifiable as belonging to the business. For a company that has a sleek, professional look, polos or dress shirts are appropriate. A casual company that sells sports equipment can use tee shirts without looking sloppy.

Employee apparel isn't limited to shirts. Hats and jackets are ideal for employees who work outside. These items give employees a uniform and professional look inside and out.
Gift Shop Merchandise
A gift shop is a valuable resource for company branding. Any time a company is able to run a small shop in the front of the building, it should make the effort to do so. Shirts, jackets, hats, ties, and all manner of accessories with the company logo allow the company's best customers to also become its top advertisers.

Restaurants can sell tee shirts with a catchy slogan or point of pride, such as having eaten a mammoth sized meal. Tourist destinations can sell shirts that boast of the many local attractions to be enjoyed. "I Did…" shirts are great conversation starters because others will want to ask about the proclamation on the shirt, and will then learn more about the company, attractions, or destination in question. "I Completed the X Challenge" just begs for passersby to ask what the challenge was.
Prizes and Rewards
Apparel that's fashionable and trendy is a smart choice for rewarding employees who have completed a challenge or met a sales goal. Make this promotional apparel comfortable and casual so winners are likely to actually wear it around town.

Another regular polo may just end up in the back of the closet, or only make it out on work days. Look for a style and design that will be appropriate for vacation or weekend activities so the company name will get out as often as possible
Team Apparel
Any type of company can participate in team sports. This is a great opportunity for employees to build camaraderie while having a good time. Whether the team is joining a local league for fun or participating in a special event for charity, this is valuable opportunity for branding. Jerseys, t-shirts, or golf polos with the company name and logo are important pieces of promotional apparel. Sports beg for an audience, and the right apparel will let everyone who's watching know where the players on the field work.
Special Event Apparel
Any time the company is participating in a special event such as a local fair, charity auction, or convention, there's a prime opportunity for a new type of promotional apparel. These items can be given to employees or participants.

Companies who host their own conferences shouldn't miss this opportunity to include promotional apparel in each gift bag. A trade show booth can give out shirts or hats to interested parties who view a demo or fill out information cards. With an eye-catching shirt, even a limited number of delegates from a particular company will stand out in a crowd.
The opportunities for promotional apparel are endless. Stay on the lookout for new chances to get the company's name out and be sure to brainstorm creative ideas for interesting, intriguing, or entertaining slogans and logos to use.