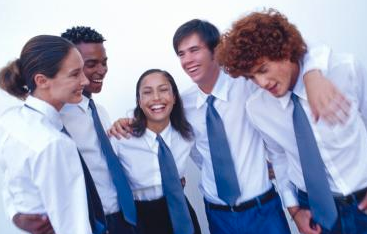 Maybe you're tired of having your employees' uniforms blend in and look like other companies, or you simply feel your work attire lacks pizazz. In any case, jazzing up your company's work attire can be easy, fun, and even cost effective. Below are a few ideas that your business may benefit from when considering how to spice up company's business attire.
1. Create a Customized Logo.
Maybe your company has had the same logo for a long period of time. Or perhaps your company offers several locations of your business and all of the logos are the same. Whatever the case may be, consider changing up the logo for your particular business location and jazz up the overall look of your work clothing. Using a software program like Photoshop or Illustrator can help you create a customized logo that fits your company's personality. Simply changing the logo design and colors, or adding a slogan can add a positive change to your company uniforms, make them a lot more interesting, and add some excitement for your employees.
2. Mix Up Styles.
If your employees have been wearing the same T-shirts for years, consider switching them over to a Polo style or button up shirt. A button up Polo shirt can still look casual, but with the additional collar, it can add a professionalism look and sharpness. Having your logo embroidered or screen printed can also add to your professional looking uniform. During the winter season, why not add a customized zip-up hoodie or jacket to your work wardrobe for a nice and clean look. Or if your business is very casual, consider getting embroidered caps or hats for workers to wear on certain days of the week. This can change the style of the work clothes for variety of reasons. Use your imagination, and talk to a screen printing expert about any questions you have.
3. Consider Color.
Nothing adds a little spice more than introducing a new color to your company uniforms. If your employees' business attire has always been black or white, why not consider adding a little glamor with some relevant colors. Adding some colors can change the entire look of your company's uniform. Start out by thinking about colors that are in your logo before deciding. Is there some red or orange? What about yellow? Take one of those colors and change the color of the shirt to match. The logo will really pop, and the brighter shade will jazz up the work clothes as well as the work environment!
4. Make It Personal.
Your employees don't have to feel like they're one of many; help them see that they can stand out, too! They are a valued part of a team, so express their individuality through their work clothes by having their uniforms monogrammed or personalized. Embroidery can be a wonderful thing when done right. A good start can be by adding a monogrammed name of your employee to the front of a Polo shirt or on a pocket. You can also consider adding a job title or place of residence underneath the name. Embroidering "Joe Black, Head Waiter" on a waiter's shirt will add spice as well as work pride.
5. Consider The Weather.
Lots of companies offer the same shirts for their employees year-round. If winter comes around and workers are stuck in a short sleeved Polo, they may not be as happy or productive at work. Think about complementing your work attire with the seasons to add variety and comfort for your employees. Long sleeved T-shirts or polos are comfortable, especially when cotton is used in conjunction with embroidery or screen print. Sweatshirts with the company name on them and/or logo can also be provided during the cooler months. Your employees that work outdoors can wear logo printed beanies or toboggans that will keep them warm and advertise at the same time!
6. Add Customized Accessories.
If your work clothes include the use of items such as aprons or small towels, make sure they are properly customized. Match the colors of these items to colors in your logo or your employees' shirts, and add embroidery or screen printing to these smaller items to pull it all together and add something extra. If your employees have been wearing those plain black or brown aprons for years, it's time to do something new. Even simply adding an embroidered name or logo to an apron can really add pizazz.
7. Consider Fun Fridays.
On Fun Fridays, have special shirts your employees can wear that are more casual than their usual attire. They can be printed with a 'special' or advertising campaign your company is running, or you can include a funny slogan or picture. This allows you to add brand awareness as well as let your employees out of the norm for extra uniform fun!
Photo Credit:
Pixland/Pixland/Getty Images