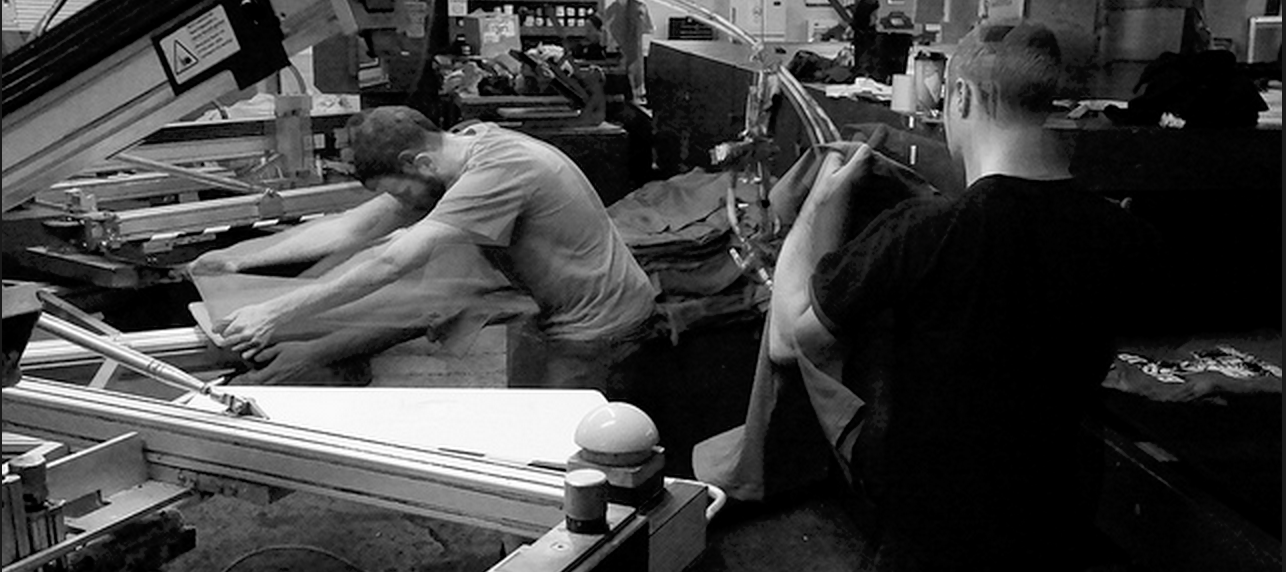 Specialty, all-over, over-sized, AOP plus, faux this, and vintage; these are some of the many different types of screen printing going on these days. The challenge lies in deciding which is going to produce the ideal product. To get the best result on any print, consult with your screen printer. By telling your screen printer what affect you would like to achieve, and providing any visuals you have, your printer can troubleshoot complications and poor printing issues. Together, you can find a solution that will produce the right result at the right price.
Soft-Hand Screen Printing
Soft-hand screen printing is probably the most requested type of screen printing these days. The word "hand" refers to how the print area feels. These days, your customers are savvy to the difference between the bullet proof promotional t-shirt of decades past, and the contemporary retail quality soft prints found in today's market. Vintage printing has a soft hand with a more distressed look.
Water-based is super-soft, but can only be printed on white or light colors for standard acceptable visibility. Water-based ink is often requested by the eco-minded because the name suggests that it is is better for the environment than plastisol ink. This is an on-going debate as there are environmental advantages and disadvantages for each.
Discharge is a water-based ink mixed with an activator and is used for printing on dark or colored garments. This ink bleaches out the fabric color while depositing pigment so the print color is visible. Discharge inks only work on 100% cotton fabrics and can still be rather unpredictable depending on the treatment and dye lot of the fabric.
Soft-hand additives were created to make designs printed with plastisol inks feel like they were printed with water-based. You may have heard of Chino or Fashion Soft. These are brand names for ink softeners. Inks mixed with additives are more transparent than their standard plastisol counter parts. For this reason, they work best on white or light colored garments.
Printing using a high mesh is another option for achieving a soft feeling print. The mesh count on a screen, in part, determines how much ink is pushed through the stencil onto a garment. Less ink means a softer print. This can be the most cost effective print for achieving a softer hand without incurring additional cost.
Large Scale T-shirt Printing
Larger than standard screen printing can be used to create a very unique looking t-shirt, but how large is large enough? Frequently customers will request a print that goes all over a shirt, but with a little manipulation of the art an equally impactful result can be achieved at a much lower price. The distinction comes in based on the machinery needed to print the final product. Talk to your screen printer about what you would like to achieve and he or she can help you find the right solution regarding size, effect, and price.
Oversize or jumbo is the next step up from standard. The largest image size that fits into this category is a whopping 17"w x 22"h! Bear in mind, smaller shirts don't even fit on the tables needed to print this large. An oversize print can also be achieved using multiple prints of smaller designs. This practice can avoid minimum orders often associated with printing all over a shirt.
All-over printing is also referred to as AOP. This type of screen printing can go off the top, bottom, left and right of the shirt. For the most part, only single color designs can actually go off all four sides. Unless you are working with a screen printer that has a belt press, designs with more than one color will not go off all four sides on all shirt sizes. In any case, designs using more than one color will likely be restricted to only six. Registration is not as exact when printing multiple colors all-over and this can make certain designs look misprinted. If you do go with an all-over print, be sure you are aware of the quality guidelines, as they differ from regular screen printing.
Printing all-over with a standard or even oversize print on top has been termed by Sharprint as AOP Plus. Creatively using this technique can give you the best of both worlds with a flexible number of colors and truly all-over impact.
Specialty Printing
In the past, specialty printing was limited to a handful of inks like high density, puff, glow and metallics. New inks are coming on to the market all the time and there are probably some new inks that can be combined to create an effect you've never imagined possible. A great example of this is Sharprint's very own Chicago Shirt. This shirt is layered with sculpture and suede bases, among other ink additives, to create a faux athletic look. If you are looking to do some creative specialty printing, get your printer involved as early in the process as possible. A good specialty screen printer can eliminate options that won't work with your art and can provide direction for what will.