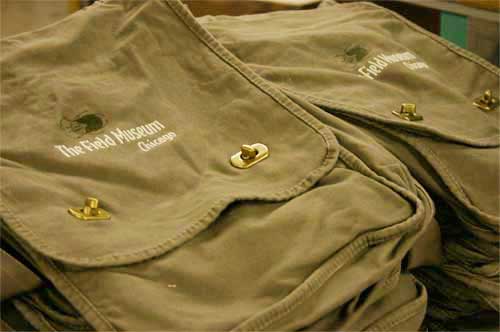 Almost everybody, everyday has something to carry. Whether it's a phone, a set of keys, or a lucky rabbit's foot, there is rarely a situation when somebody leaves their home empty handed. In the past, when phones could only be taken as far as the cord would stretch and a computer would hardly fit in the passenger seat of a car, things may have been different. However, today's world is full of convenient gadgets that people can't leave the house without.
Since humans don't have the luxury of 8 arms like that of an octopus, we are forced to find a way to haul around all of our goodies. The best way to do that is by using a fashionable embroidered bag.
With more people carrying bags on a daily basis, more bags are moving into and becoming a part of the fashion industry. No matter if you are heading to class, work, or the beach, there is a bag designed for the situation. Bags range from small to large, one color to rainbow color, over the shoulder straps to wrist-let straps. Companies can take advantage of the necessity that bags carry today and put their name and logo on these walking advertisements. Whether it's embroidery on a twill bag or a screen print on a silk bag, it's a good investment.
It's more common to embroider on a bag than it is to screen print. Decorating manufacturers have the ability to embroider on all types of fabric, just be aware that not all fabric holds embroidery the same. How the design will end up looking on a garment is determined by the type of fabric that the design is being embroidered on.
Strong fabrics hold embroidery well. The best fabric to place your company name and logo on include:
Twill
Canvas
Poly Denier Nylon (bags and duffels)
Outerwear Materials

The maximum embroidery height on most caps is 2.25". Though most caps embroider well, caps such as trucker hats are better for screen printing.
Soft and flimsy fabrics require more underlay stitches to stabilize the custom embroidered design. These extra underlay stitches result in a heavier garment. These types of fabric include:
Rayon
Silk
Soft Pima Cotton
Dry Fit Fabrics
High pile fabrics hide the small detail of a custom embroidery design. To deal with this, decorators will add more underlay stitches so that the design sits more on top of the fabric. Another option that decorators have to assure the customer's logo will stand out is to embroider the letters thicker. Examples of high pile fabrics include:
Polar Fleece
Terry Cloth (beach & bath towels)
There are often times when the customer's digitized logo will need to be adjusted for different types of fabric. The way a logo is digitized for fleece will not be the same as the way that same logo is digitized for canvas fabric.
Since bags often contain hidden zippers and pockets, it is important that the decorator has access to the actual bag that the customer wants to embroider on before digitizing. Once the decorator has the bag, they are able to check the hooping area. Areas of the bag with hidden zippers and pockets limit the hooping area, meaning less room to embroider the custom design or logo.
If you have any questions as to whether your design will embroider well on a specific garment, feel free to ask your sales rep.
Technology will continue to grow and provide people with more entertaining gizmos and as it does, bags will continue to be the way they are carried around.