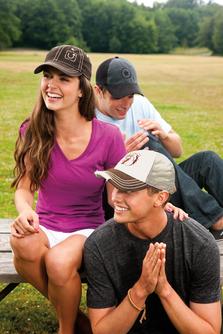 Custom apparel is a great marketing tool that any type of company can benefit from. Whether the clothing you design is intended to be part of a work uniform, or it's something you hand out for casual wear at home, the benefits of branded apparel are many. If you're not using custom embroidered hats as a part of your branding strategy, you could be missing out on a great opportunity.
There are a lot of considerations to go over when you're looking into custom hats. With the right adjustments, this marketing tool can be used for almost any purpose. Consider the following elements of building a great branding strategy with your custom embroidered hats.
How Will Your Hats be Worn?
Before you can begin designing custom hats for your business, you need to think about the way that they'll be worn. Here are a few different ways that your company hats may be worn:
As part of a work uniform – Hats are great at a restaurant, retail shop, car wash, landscaping job, sporting goods store, and more.
For a sports team – Custom hats are the perfect addition for a company softball team, or for team wear in a charity golf tournament.
As casual wear – If you distribute your hats to customers or give them to employees to wear at home, they'll likely accompany any number of casual weekend outfits.
The purpose of the hat will influence its design. For a softball team, you'll want to go with a classic baseball cap. If you're distributing hats for casual wear, you may want to go with a trendier look like a fashion cap or twill hat. Visors are a good choice that will often be worn on vacation. Be sure to think about the purpose first so you can design your custom embroidered hats accordingly.
How Will You Distribute Them?
The next consideration for your hats is how you plan to give them out. There are a lot of different ways that you can get your hats out into the world, and your method of distribution may affect the design. Here are a few different ways you may choose to distribute your hats:
At a trade show booth to attendees who watch a promotional video, or participate in some way
To all attendees at a conference you're hosting
As a prize at a company carnival or other event
As a reward for achieving a sales goal
The manner in which you're distributing the hats will help you define your audience. If you're having a company carnival and providing your custom embroidered hats as a prize, you should have men's hats, ladies' hats, and children's hats on hand so there's something for any winner. At a trade show, you'll want to have both men's and women's hats, but you may be able to predict your primary audience and determine which type of hat you will need more of.
What's the Best Design?
There are lots of different designs to choose from with custom embroidered hats. You should first determine what kind of embroidery you'll be working with. A clean design with a few simple colors will pop the best. If you have a recognizable logo, this is a good place to start. You can also add to your company logo with features like the year or the name of the conference.
As you're designing your hat, it's important for you to remember that this is a branding tool. A hat that simply reads "Salesman of the Year" won't do anything for your company, because others won't know what company the salesman works for. This holds true with conference or event names. Keep your logo or company name present.
Choose a hat color that offsets the colors in your chosen embroidery design. Don't place navy embroidery on a black hat, or beige on white, because the design will get lost in the background. Go for sharp contrast.
Putting it All Together
Once you've developed a solid idea for your custom embroidered hats, it's time to place your order. A good sales representative will be able to help you fine tune your design and the details of your order to make sure you get exactly what you're looking for. The end result will be one-of-a-kind hats that set your company apart and give it new and distinct appeal.