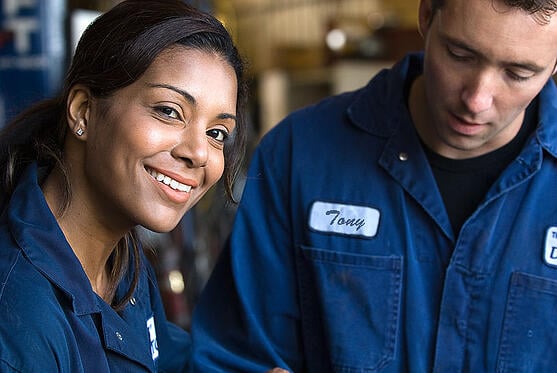 Staff uniforms are a common feature shared by many of the most successful businesses in the country. Everyone from doctors to fast food workers are expected to wear a specific type of attire. Businesses can use staff uniforms for a variety of beneficial purposes.
Improved Professionalism
While any company can set a dress code, it is inevitable that employees will choose to interpret that code differently. With a set staff uniform, businesses can be sure that each and every staff member will be professional looking and entirely presentable at all times. Staff uniforms are easily customizable to suit any business. Polos, dress shirts, jackets, and more can be embroidered and custom designed to fit various types of companies.
A Nationally Recognized Look
Businesses that operate a chain of stores, hotels, or restaurants can benefit greatly from staff uniforms. This creates a recognizable looks that will cross state lines and unify all the individual businesses in the chain. Customers who visit one location will immediately feel familiar with the other ones. Consumers often gravitate toward locations that feel comfortable, especially if they received stellar service there in the past. The right uniform will give any business a look that's instantly identifiable.
A Clean Appearance
Staff uniforms are a quick and simple way to clean up the appearance of any business location. Scattered staff in a variety of outfits can make a store seem crowded and confusing. When every employee is dressed alike, the entire setting instantly takes on a sleeker and more organized look and feel.
Easy To Identify Staff
Customers hate that moment when they're looking for help but can't determine whether the person next to them is an employee or well-dressed shopper. With staff uniforms, it's always easy to identify each and every person that works for the company. Customers will appreciate this feature of your business when they're looking for assistance because it makes it easy to know who to ask for help. It also makes it clear that a location is well-staffed when a simple scan of the room makes it easy to identify all the employees present.
Increased Profits
Believe it or not, staff uniforms can actually increase business profits. Customers are more likely to pay a higher price at an establishment where the staff members are all dressed smartly in uniforms than they are somewhere that the staff is dressed differently. The presence of uniforms instantly makes a business look more professional and higher class. It gives the appearance of a well-established business while stores without uniforms look more like Mom and Pop shops or thrift stores.
The addition of uniforms will benefit nearly any business. These can be designed in a range of colors and styles to suit any company, whether the look is sleek and elegant with black button down shirts, or more casual with brightly colored polos. Well designed uniforms can work for anyone.