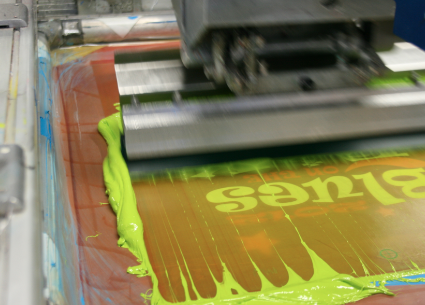 Screen printing is a type of printing technique that utilizes woven mesh as a means of supporting ink-blocking stencils. A relatively inexpensive printing technique that results in highly-detailed and very beautiful designs. Using screen printing for t-shirts and other promotional items can help get a business on the proverbial map. Whether researching the best ways to promote your restaurant, retail store, eco-friendly company or other business, screen printing designs are arguably one of the optimal methods for making your business apparel truly stand out.
The "Unique" Factor
Utilizing these designs to promote your brand gives the business a competitive edge in terms of uniqueness. It is doubtful, after all, that another business will have the exact same design.
Go for one design or multiple designs. A few choice designs for t-shirts or other promotional items can turn into collector's items, plus they provide a conversation piece when explaining the business idea or promotion origins to potential customers.
The Importance Of Branding
Screen printing designs offer a good opportunity for you to brand your business, especially if the designs are visually stunning in some way. Such designs will become coveted and help your company create brand awareness, which will happen any time a person wears an item featuring your business brand.
Take Advantage Of Color Options
Play with a variety of colors. Generally speaking, colorful designs are the most eye-catching and can therefore help promote a business. Even if a company only uses one or two colors in its design, these colors can still be explored to create a unique design. For example, if coming up with a design for an eco-friendly clothing company whose logo colors are green, brown, and tan, use a variety of green hues to complement the brown and tan shades.
Take Advantage of Your New Design
Why stick to one type of promotional item? Again, assuming it's budget-friendly, consider using a completed design on anything and everything in terms of promotional items like t-shirts, trucker hats, coffee mugs, key chains, stickers, flyers, magnets, and any other item your company wants to use for promotion. Again, if the design is chic or unusual enough, promotional items can turn into collector's items.
Learn The Basics of the Screen Printing Process
In addition to thinking about all the ways screen printing designs can help brand & promote your business, why not take some time to learn more about the process itself? This can help any business know exactly what they want beforehand and for future orders. In regards to the design itself, the two "industry standard" programs screen print decorators use for screen printing are Adobe Photoshop and Adobe Illustrator; however, there is no need to know the details on how these programs work because your designated decorator should be able to do the design for you! Understanding color separation techniques can also be helpful in terms of obtaining that dream design, and may also help keep the design within budget.

These are just a few of the ways a company can make the most out of screen printing designs. The personal touch such designs provide will help create a lasting impression in the minds of your consumers & employees, and may even become the company's signature for years to come.