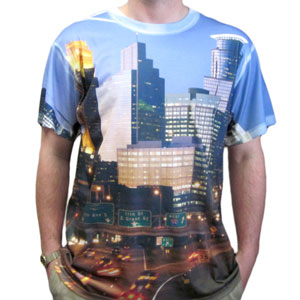 As the seasons change, so do people's fashion needs and desires. Spring 2012 sees some new directions in clothing trends, especially in the areas of screen printed apparel and all-over prints. People in fashion-forward industries can use these trends to inform color choices, fit and graphics for their latest designs.

One of the key sources for international clothing trends is New York Fashion Week. The 2012 installment of this event is not just about gowns and suits. More casual separates and knitwear show up in nearly every designer's line. This year saw many designers using floral, flower and petal prints on their separates. For example, Proenza Schouler had all-over prints of pop art florals in stunning tropical colors of aqua and lemon. Alexander Wang went Goth with black, white and gray flowers on knitwear. Thakoon's Bollywood-style shirts, vests and pants in abstracted flowers and oversize paisley prints had dazzling color combinations of pink and orange, and gold and turquoise. Jason Wu's Graffiti-inspired prints of spray painted petals were pure street; while J. Crew went feminine and flirty with tunic T-shirts. The shirts hugged the torso and flounced at the waist, featuring all-over aqua and indigo Impressionist prints of flowers.

This year's clothing trends aren't just about flowers. Mod and ethnic color-blocking is huge for Spring 2012. You can go brilliant with complementary colors such as yellow and blue, or more bohemian chic with bold squares and diamonds in brown, copper, gold, ivory and tangerine. Fitted T-shirts are still in, so consider a long, bodice-hugging style in retro Beatnik black-and-white stripes, or an all-over animal print such as zebra stripes or giraffe spots.

For something dressier than a crew neck or V-neck T-shirt, consider a polo shirt with an allover print. Spring 2012 runways have seen all permutations of prints, from old school preppie plaid to abstract shapes. Larger format images that cover the entire front of the shirt are also popular. Think wildlife graphics or, for the skater in you, giant skulls and crossbones.

Another fun look in the Spring clothing trends is nautical prints. Oceans and waves, abstracted or photo-realistic, show up in all-over prints as well as borders and details. Bring in the tropics with images of palm leaves, palm trees, coral reefs and vivid flowers. Bubble skirts may be out, but bubble imagery looks otherworldly on a gauzy top. It looks like a sunny forecast for Spring fashion.
Read More