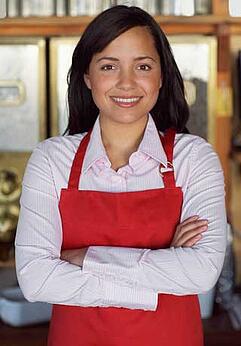 Advances in fabric technology makes it even easier to meet employer's and employee's uniform needs - particularly in the restaurant industry. This new technology allows uniforms to be less constricting, more stain resistant and easier to clean and breathe.

High performance fabrics commonly associated with athletic apparel can wick away sweat and moisture. This is especially beneficial for wait staff serving outdoor tables in summer months or in typically warmer climates. These textiles are known as hydrophilic fabrics. One brand you may be familiar with is Nike's Dri-FIT.

Hydrophilic fabrics now available for restaurant uniforms are 100% polyester, however, the new knits are very different from the stereotypical 100% polyester garment associated with 1970's fashion. These textiles use spun yarns for a truly cotton-like feel. Hydrophilic fabric is also soft and breatheable - perfect for active workers. The superior soil release qualities of these fabrics enable them to keep a new look wash after wash. Extremely durable, hydrophilic uniform pieces need to be replaced less frequently. This is an economical plus for employers. Hydrophilic fabrics are similar to 65/35 poly-cotton blends, although way more breathe-able.

A caution when designing a uniform line on polyester or polyester blends is the potential for dye migration. Whenever possible, print dark ink on lighter garment substrates.

Another fabric that can be more comfortable for active workers may be stretch based for flexibility. Many restaurant owners looking for new options are checking out pre-washed stretch denim.

Lycra® has traditionally been incorporated into fabric blends to add stretch. It's not a perfect option because it's rather hot to wear - especially if the employees job requires a lot of activity. A unique wicking Lycra® is available to increase comfort.

Flame resistant uniforms enhance safety, but are notoriously warm to wear for extended periods of time. Fabric improvements have made today's flame resistant apparel more breathable and comfortable than that of the past, however, still not completely ideal for active employees. Nomex® is an example of one of the more advanced and comfortable flame resistant uniform fabric. A flame resistant finish can be added to a fabric that will also increase color retention.

Fabrics for active employee industries such as restaurants have made great advances and will continue to become more functional and comfortable for employees. Stay tuned for updates!