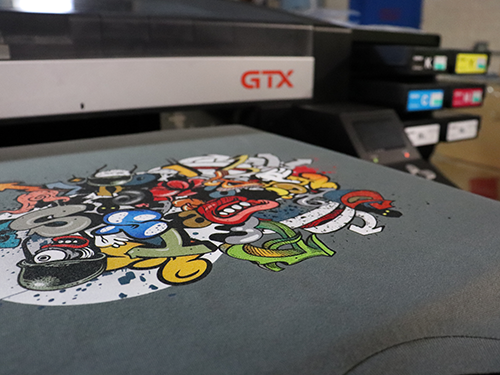 Direct-to-garment (also called DTG or digital) revolutionized printing full-color images on low-quantity t-shirt orders. Most folks in the promotional products industry are familiar with the process, but many aren't sure when or why to order DTG prints. By the end, you will be able to confidently advise your clients and know when to consult with your decorator first. Be sure to check out the video to see DTG in action. You can download a reference guide on how to size artwork for direct-to-garment printing.
How DTG Printing Works [VIDEO]
Why It's Important To Know About Pre-Treat
Apparel That Works & Apparel That Doesn't [FREE DOWNLOAD]
How DTG Printing Works
Digital printing on fabric works just like a color inkjet printer you may have in your office. Cyan, magenta, yellow, and black (CMYK) inks are sprayed onto a surface. In your office, the surface may be a piece of paper. In a print shop, the surface may be a t-shirt.
In your office, you probably can't print on black paper because the inks won't show up. In a print shop, you can print on black t-shirts, even digitally, thanks to the white underbase. However, in order for the white under base ink to bond with the t-shirt fabric in digital printing, tees go through an extra step in the process called pre-treat.
Why It's Important To Know About Pre-Treat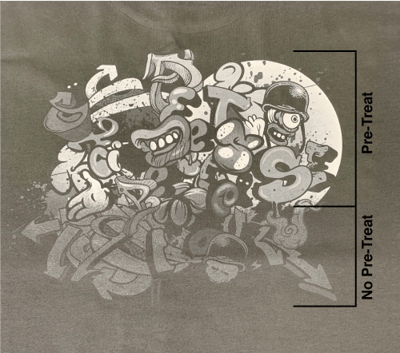 Pre-treat is a nontoxic primer used in digital printing on dark garments. Pre-treat helps bond the white underbase ink to the garment's fabric fiber. Without pre-treating the t-shirt, the DTG white underbase ink won't stick! On the example shown, the print has been pre-treated on the top, but not on the bottom.
Pre-treat is sprayed on the shirt, then heat pressed to create an even smoother surface for printing on. Traces of pre-treat may be visible around the printed image on the finished product, especially when the garments are light blue, light pink, grey, or neon. These visible traces usually come out after the first wash, but if you are printing on these colors be sure to consult with your decorator. It's a good idea to order a pre-production sample so there are no quality surprises when the order is received by your client. Your decorator can also help you come up with an alternate option that may print better.
Artwork For DTG
Both high resolution files and vector graphics work for direct-to-garment printing. You can send over the art just as you would for screen print or embroidery. Raster images should be created at a minimum of 150 dpi and up to 300 dpi, if possible. If you're supplying vector graphics, be sure to include linked files or embed them in your document. Convert all fonts to outlines.
Unlike screenprinting, Pantone or other color matching is not possible when printing direct-to-garment. Color tweaks or minor adjustments are not possible when printing direct-to-garment.
How To Size Artwork For Digital Printing
Many times orders include unisex, ladies, and youth t-shirts that cover a wide range of sizes. A print that looks perfect on a youth small shirt might look too small on an adult large shirt. Volume pricing is based on a single set up, so it's important for you to know how many set ups are needed to produce an order that looks good for your client.
We've created a download to help with this. The download includes a quick reference that you can share with your client. Together, you and your client can decide how many different print sizes they want to use based on the looks and budget.
Apparel That Works And Apparel That Doesn't
Garments for DTG printing must be 100% cotton. The smoother the fabric, the nicer the print, so prints on ringspun cotton look better than prints on a regular cotton t-shirt.
Direct-to-garment inks are water-based. Polyester is a kind of plastic. Since plastic doesn't absorb water, DTG ink does not work on polyester garments. Also, stay away from any apparel that is stain resistant or weatherproofed. These garments are treated with coatings that repel water and water-based inks.
Polyester makes up close to half of the material in heather color T-shirts, so they are not good for digital printing. The Heather Prism series from Bella + Canvas, style 3001CVC is an exception. These t-shirts are 99% airlume combed and ringspun cotton (only 1% polyester), making them a great candidate for direct-to-garment printing.
Also, note that most hoodies & fleece are NOT 100% cotton, but the SS450 Independent Trading Co Midweight Hooded Pullover Sweatshirt is 80% cotton, making it a solid choice.
Recommended Garments for DTG
Garments To Avoid On DTG Orders
Polyester fabric.
Cotton apparel in light blue, light pink, grey, or neon.
Most heather colors.
Most fleece including tops & bottoms.
Raincoats or weatherproof clothing.
Aprons and restaurant uniforms.
Order Sizes
Since the direct-to-garment printing process is much slower than screen printing, direct-to-garment printing is best for lower quantity orders. DTG can be a great option for high quality, low cost decoration on order quantities below 144 pieces. If your client is asking for digital printing and they are ordering more that 144 pieces, contact your decorator to help make sure digital is the best option for the order.