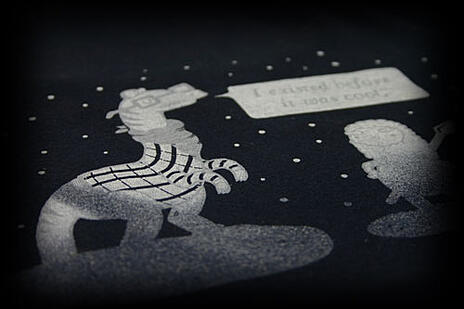 There's a lot that is the same about printing light and darks for DTG. Shirts must be 100% cotton. The artwork needs to be submitted in the same way. The ink on the shirts must also be cured whether the tee is a light or dark color, so what's the difference? The main difference is a step in the process called pre-treating. Only dark t-shirts get pre-treatment.Pre-treating is spraying a starch like liquid substance on the garment, then heat pressing the tee to dry. The liquid acts as a substrate primer for the white underbase. Without pre-treating the white under base print sinks into the shirt and neither the white or any CMYK print colors on top are visible.
The image above shows how pre-treatment affects a digitally printed white underbase. The top portion of the design was pre-treated. The bottom portion was not. You can see how much brighter the white is in the pre-treated area. This creates a much better surface for the color print application.
Because of the pre-treatment, you may notice a slight discoloration of the t-shirt around the printed image. This is normal and disappears after the first wash. To best preserve the color of your print, it's best to wash the garment inside out in cold water and dry on the delicate cycle using the cool setting.