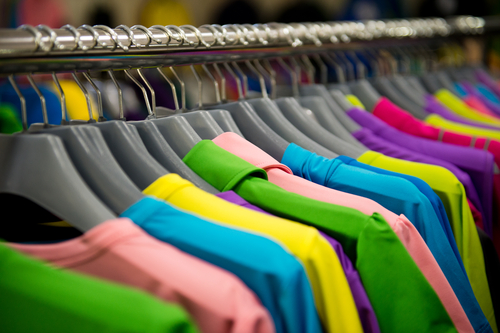 When you're getting ready to figure out the right colors to choose for your company's apparel, there are a few points that you'll want to consider. Your overall goal is to represent your brand in the best manner possible and yes, something that seems as small as the color of your apparel can be a very significant factor. Here are some points to bear in mind as you get ready to finalize the colors of your company apparel:
Brand Recognition
You want your apparel colors to go hand in hand with your brand, so picking colors that fall in line with your logo, website colors or marketing tools is a great choice. You don't want to veer so far off base from what your consumers already recognize, so even if you don't want to use the exact color, using a shade in the color family from your logo is good as well.
Stand Out Colors
Especially if your business is a retail environment, workers should be easy to point out and flag down from a customer standpoint. In these types of situations, you should try and steer clear of basic blacks and colors that disappear into a crowd unless there are boldly colored logos that will be easy to spot. In addition, having a uniform that has an integration of two colors; one on top and one on the bottom that are easily recognizable will make your employees stand out.
Your Target Customer
Did you know that there is actually a science to the way that people react to colors? Purple represents royalty, blue, a sense of loyalty and peace, yellow signifies happiness and warmth while white represents a clean and sanitary environment. This is why we see white so much in the medical field. You can do some research to figure out what colors represent your brand the best and work on what your target market is. Appealing to an older crowd vs. a more youthful and vibrant one can also have an impact on the colors that you pick.
Fashion Colors
You also have the option to rotate your company apparel colors on a seasonal basis. For businesses that are fashion and trend driven, this may be a great way to go. Whether focusing on one key color for the season and changing each year- in example, utilizing the color that Pantone picks annually, or using a spectrum of colors for each fashion season, rotating colors can be a fantastic way to engage your customers. This is especially the case for a younger market since they react well to new and exciting change.
Standing out from Competition
Another factor to bear in mind is what your competition is doing in regards to their company apparel colors. You want to be able to stand out from them so that no customers are confusing the two of your brands. If your competition has red and black as their custom colors, you don't want to go with red and white. You want to do something completely different, so that your brand becomes easily recognized and stands alone.
These are some key points that you can reference as you get ready to pick your company apparel colors. Getting employee feedback before you finalize your decision can also prove to be of great assistance. Employees want to be able to wear something that makes them feel comfortable as well and when you give them the option of having some input on major decisions, it helps them feel like their opinions are important to you. This can help them to be more productive and driven within the company as well. Whatever colors you decide on, have fun with the process and make sure that you're happy as the end result.