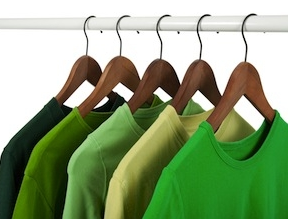 When you think about environmentally friendly practices, recycling, carpooling, and conserving energy probably come to mind. Manufacturers in nearly every industry are getting more creative about going green. If you're interested in leading an eco-friendly lifestyle, you can now start with the very items you're wearing. In fact, sustainable apparel is a trend that's seen regular growth and even become a mainstream option available from many top retailers.
How Apparel Becomes Sustainable
When it comes to green practices, there are a lot of grey areas. Not everyone understands the difference between an item that's sustainable and one that's recycled. A sustainable product is one that's totally biodegradable. In order for an item to be truly sustainable, the manufacturing process must not overly tax the earth. If you're using resources that cannot be replenished, you're not operating in a sustainable manner because you will eventually come to the end of your supplies. Most fabrics are sustainable because the materials they're made from can be replenished.
The Best Options for Sustainable Materials
You can make eco-friendly apparel from many different materials. As you're considering the environmental impact of your clothing, you need to think about where the material comes from. You've probably heard of organic cotton as an alternative to regular cotton, but do you know what the difference is?
Organic cotton is a better choice for eco-friendly apparel because the cotton is grown without the use of pesticides and other harmful chemicals. Chemical insecticides and fertilizers can do a great deal of harm to the planet. By eliminating these from the production process, you're helping to make the environment a healthier place.
Bamboo is another top choice for green apparel. This is because bamboo grows much faster than other plants. It can grow as much as two feet in a single day. It uses 1/3 of the water that cotton requires. Bamboo has no natural pests and is therefore much easier to grow without pesticides. The finished fabric is soft, easy to dye, and naturally antibacterial.
Hemp, like bamboo, requires less water than cotton. It can be grown organically without the use of pesticides and herbicides, though it's less efficient than organic cotton on this count. The fibers from the hemp plant make a fabric similar to linen, but with less of an impact on the environment.
Soy fabric is another innovative option for sustainable clothing. This fabric is especially noteworthy because it's made from the byproducts of other soy industries. The fibers that are left from other types of soy manufacturing are saved and used in the production of a soft fabric that's much like silk. Soy fabric is also naturally antibacterial, absorbent, and UV resistant.
Why Choose Sustainable
The most obvious reason to choose eco-friendly apparel is the impact that you can have on the environment. Choosing this type of clothing is also a powerful way to support your company's green image. It's one thing to say that you're jumping on the eco-friendly bandwagon, but it's another job entirely to actually prove it.
Going green is so trendy that some customers take these claims with a grain of salt. You can't just say that you want to be eco-friendly. You have to prove it. Eco-friendly apparel gives you the perfect chance to do just that. Make sure that your staff clothing and promotional products have a minimal impact on the environment by choosing smart sustainable options. The fabrics are just as comfortable and the overall implications of what you're doing are fantastic.
Environmentally friendly items are just as easy to brand and customize as any other choice. Embroidery, screen printing, and more are available on these items. Shirts, hats, and bags are all available in sustainable fabrics. Make a statement with your promotional items and try something sustainable for your next campaign.