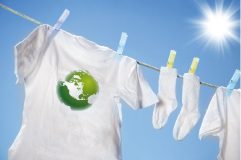 Ready to do something different with your employee apparel? With the celebration of Earth Day this year, more emphasis is being placed on using materials that are sustainable, organic, and natural in order to live a more planet friendly life and a greener existence. How can you do your part for the environment? Consider changing your company apparel fabrics to soft, comfortable, and all natural organic clothing made of natural materials. There are many benefits to going organic when it comes to company clothing; here are a few.
It's Simply Earth Friendly
Organic clothing is better for the planet and can lessen your carbon footprint. This is made possible due to the fact that organic clothing is created using sustainable and ethical labor practices, as well as natural fibers and materials. Organic cotton, used to make clothing, is grown without the use of toxic chemicals or insecticides. By switching to organic clothing, you help the environment by supporting a healthier farming industry, and the health of everyone involved in growing and using the cotton.
All Natural Fibers
For people with sensitive skin, organic fabric is a great solution. Since it's not dyed or processed with unnatural colors and chemicals, it's perfect for everyone - especially people that have allergies. Non-organic clothing can be scratchy, while dyes can be irritating. So, wearing natural organic fibers is a great way to pamper your employees and keep them comfortable, while also reducing potential allergic reactions or skin irritations.
Variety
Most people shrug off the idea of organic clothing because they think the selection is limited, but this is not the case. If you're looking for corporate apparel and would like to use organic materials, you have several options: including polo shirts, fleece materials, and hemp - all of which can be screen printed or embroidered. So remember, your options are wider than you may have originally thought. There are just as many options for organic clothing as there is for traditional.
It's Trendy
These days, most famous fashion houses are putting out a variety of organic styles. Since more people are becoming interested in living a greener lifestyle; organic fabrics, clothing, and accessories are becoming much more popular and mainstream. Furthermore, organic clothing isn't only a healthy and conscious choice for the environment, but it can also portray a fashionable look - keeping your employees healthy while looking good!
Comfort
Some synthetic fabrics like polyester or acrylic simply aren't comfortable. If your employees are wearing their uniforms for long periods of time, they may feel hot, itchy, and simply unhappy in fabric that doesn't breathe or move with their bodies. Organic and natural fabrics are breathable and comfortable, that let your employees keep cool in the summer, yet warm and cozy during the winter. Moreover, natural cotton circulates air better and can keep your employees more comfortable, resulting in an increase in productivity.
A Chemical Free Life
When you wear synthetic fabrics, you're contributing to the production of clothing that includes toxic chemicals that can cause a range of health problems. By making the switch to organic clothing, you can minimize exposure to these chemicals and help promote a healthier lifestyle.
Organic clothing is not only made of higher quality material that may last longer and be more comfortable, but it also provides a chance to help sustain our planet and keep your employees healthy. Start with your company today, and make a difference by considering organic uniforms & apparel for your employees!