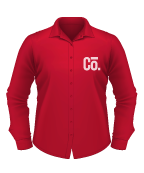 Your corporate identity is the image that you put forth to the public as a whole. This public includes customers, investors, suppliers, and even your own employees. At its core, corporate identity stems from a set of established values, beliefs, and practices that the company operates around. This isn't always easy to visualize, though, which is where tangible items like corporate apparel come into play.
What Your Apparel Says About the Company
Like it or not, the corporate apparel that you choose will send a certain message about your company. Tee shirts are casual and laid back, which is perfect for certain retail or dining establishments where customers should feel comfortable and relaxed as well. Polos are slightly more professional, but still show that your company isn't too uptight. A button down shirt with your company logo on it is sleek and professional, and shows that you're more focused on serious business matters than on fun or recreation.
There's no one right answer when it comes to corporate apparel. You simply need to consider the image that you're putting forth and choose items that keep in line with your chosen identity.
Possible Uses for Corporate Apparel
There are many different ways that you can use corporate clothing to establish your company's identity. Having employees wear your chosen apparel to work every day is an effective option for businesses with a retail location where customers see your employees face to face. If your business is run out of an office with less customer contact, you may want to save branded corporate apparel for special events like trade shows, conferences, and presentations.
Corporate Apparel Outside the Office
Sending some of your corporate apparel out of the office is a good way to spread the word about your company around town. In this case, you may need to reconsider the type of clothing that you choose. Your internal apparel may trend toward button downs and blazers, but baseball caps and tees are fine for casual weekend wear. Providing these comfortable alternatives to your employees or customers will take your message to the streets.
Colors and Images as Part of Your Identity
The colors, logos, wording, and imagery that you choose for your apparel will offer the finishing touch to your corporate branding campaign. Again, there's no one right answer. Consistency is important so you should look for ways to repeat the colors, logos, and catch phrases used in your advertising on your apparel. If you're not consistent, customers may get confused about whether the billboard above them on the street and the tee ahead of them in line are really from the same company. When you repeat elements often, they become an ingrained part of your identity. This makes it easy for others to recognize your company's materials anywhere they pop up.
With careful consideration, you can visualize your company's core values and goals in stunning pieces of apparel. This will solidify your corporate identity by allowing others to see it rather than simply read about it or internalize it. Simply put, branded clothing brings your corporate identity to life.