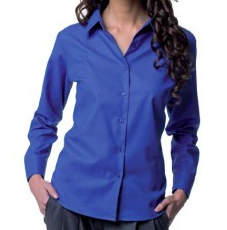 Uniforms are a necessary element for many organizations. After all, uniforms immediately unify and identify staff members, add an element of professionalism and promote the name and logo of the business. Indeed, there are many professions, from doctors to housekeepers, who utilize uniforms as part of their daily employment.
Despite the need for uniforms, however, employees are individuals and they seek a way to express that individuality even when wearing a uniform. Moreover, companies can benefit from adding fashionable touches to branded apparel, especially because many customers respond well to a fashionable uniform.
Variety
One of the easiest and best ways to add some fashion to branded apparel is to offer basic variety to the uniforms. Think about offering employees uniforms in several different colors, such as bright primary colors like red, orange, blue or even in neutral shades of gray, brown and blue. Alternatively, mix and match primary colors with neutral shades. When different employees wear different colors, the uniforms will complement each other and offer an appealing, fashionable visual touch. Lastly, it's also important to adapt when using brand colors on traditional seasonal fashion styles. Brighter colors (i.e. white) for the summer and warmer autumn colors for the fall.
Color Blocking
One of the most popular fall fashion trends last year was color blocking, which can be an easy and versatile way for employers to update their uniforms, including branded apparel. Use the company's logo colors or mix and match bright, bold colors that pop together. Remember that colors should "go" together instead of "match" to hit the right note.
Black and White
Bright and bold does not necessarily have to mean color. Employers can cash in on another hot trend by using simple black and white together for uniforms. Branded apparel looks sharp in these basic fashion elements and adds an element of sophistication and polish to any uniform. Logo colors can also be used as accents to black and white uniforms to maintain brand identify with a bold and sharp style.
Screen Printing
Everyone appreciates a little fun now and then and the same is true for employees as well as customers. Update branded uniforms with some screen printing, which offers a wide range of possibilities. The company logo is one option, as are lively images, sayings, or trendy words and phrases. Have some fun with it and everyone will appreciate the little touch of humor in his or her day.
Collars
What goes around comes around and this is particularly true in fashion. Select collared garments to be embroidered with a small logo, emblem, or personalization. Rounded points with Peter Pan collars can add a touch of whimsy to shirts, while sharp pointed collars look crisp and professional.
Accessories
Allowing for employee individuality as well as brightening up uniforms is easy with a few accessories. Employers can either offer a selection of permissible accessories, such as caps, hats, scarves, gloves, or even iPad cases. Allowing your employees to choose their own could also prove beneficial. Accessories can update branded apparel quickly so that the overall appearance is fashionable, but achieving the final look is inexpensive.
Options
Create a uniform program with options that allow employees to create individual looks that can be different through the week while maintaining a standard uniform look. Most uniforms are comprised of more than one element. For example, it may consist of a polo shirt and slacks or a button-down shirt and slacks or a skirt. Consider widening the base of allowable pieces that go with the branded apparel item to help keep uniforms updated and modern.

For example, an employee polo shirt of almost any color works with slacks in gray, blue or even other dark colors such as green or black. If the uniform pieces are in neutral colors, let employees mix and match the different parts of the uniform together. Simply allowing the permissible options can update the overall look of a uniform in a hurry and make the overall appearance more fashionable.

Get creative when it comes to uniform branded apparel. Your employees will thank you for the more modern appearance, and customers will appreciate the fresh new look as well.