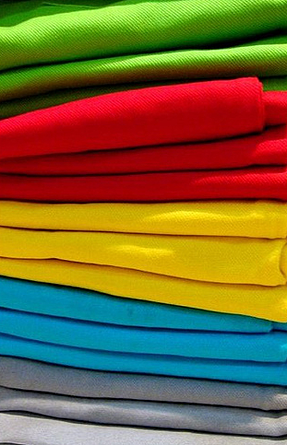 Creating a personalized custom t-shirt for your business, organization, or sports team can be a lot of fun if you understand the different techniques involved during the process. Making your t-shirt a unique personalized representation of your organization can also be easily done if you follow these simple 7 guidelines:
Start by creating a customized design for your organization's t-shirts. This can be anything from a company branded logo, or a logo you create yourself to represent the organization. There are three main techniques that can be used when printing your personalized logo for your t-shirts: screen printing, embroidery or digital. Beyond these main capabilities, there are a few other ways that a logo can be customized, such as dye sublimation, heat press, vinyl transfer, and more. Talking with a professional screen printer about the best way to place your design on your custom t-shirts to effectively represent your organization will ensure the best possible outcome.
Use color to personalize your t-shirts. Creating custom t-shirts that represent the same color can be a great way to show unity that portrays a custom look for your organization. Selecting one material will also help make a unified look. An example might be t-shirts that are collared polo style or traditional cotton.
Give each shirt its own special touch by embroidering team member or employee names on the front of the shirt. Embroidery looks great. It can make every member of the organization feel special when adding the use of his or her own personalization. Since the shirts will likely look similar, adding a little personalization can boost each person's morale and make the customization a bit more one of a kind.
Come up with a catchy slogan for your organization that is unique and memorable. Then have it screen printed on the back of your organization's t-shirts for a nice personalization effect.
If attending an event, add the date so you will always remember the experience when you wore your custom t-shirt. If your organization is creating custom shirts for a company softball team, add the year to either the side of the shirt. Having shirts from every year to look back on will give you brief nostalgia, and a memento of that event - whether it's a 5K run for breast cancer, a company picnic, or a fundraiser.
Consider artwork. Is simply having a logo enough? Or do you want to take the customization of the artwork a step further? Creating a customized image just for this shirt is a great way to personalize the shirt for your organization. Consider using digital imaging to add a crisp and clean design to the shirt. Go a step further and have someone in your art department or a creative co-worker come up with some design ideas. If the shirt is for a special event, design a special image around that event - such as a Christmas fundraiser. Use your imagination to create a one of a kind custom image for your t-shirts.
Use your organization's mantra and add a personal message to your custom t-shirts. Did you know you could add personal signatures? Part of the custom t-shirts design can include personalized signatures from team members, quotes that pertain to the event, or even handwritten style messages from the organization. This can add a unique and neat touch that will go a long way.
There are many ways to get creative with custom t-shirts for your organization. Whether it's for a special event or promotional purposes, creating a unique custom t-shirt can be a lot of fun and a great way to get all the team members involved. Allowing everyone to brainstorm their own ideas, and/or having contests to decide which slogans to use will make this entire process easy and entertaining!
Contact an apparel expert today to discuss customization options for your organization's personalized t-shirts today.