Disclaimer: I am not a lawyer. I can not give actual legal advice. This is proven by the fact that I do not carry a brief case. All of my legal knowledge comes from "Law and Order" and "Night Court". This includes the knowledge that any cameo appearance by a slightly famous person normally means that that person is the guilty party. If you are still unsure if I am a lawyer or not please click here.
This week on Law and Labels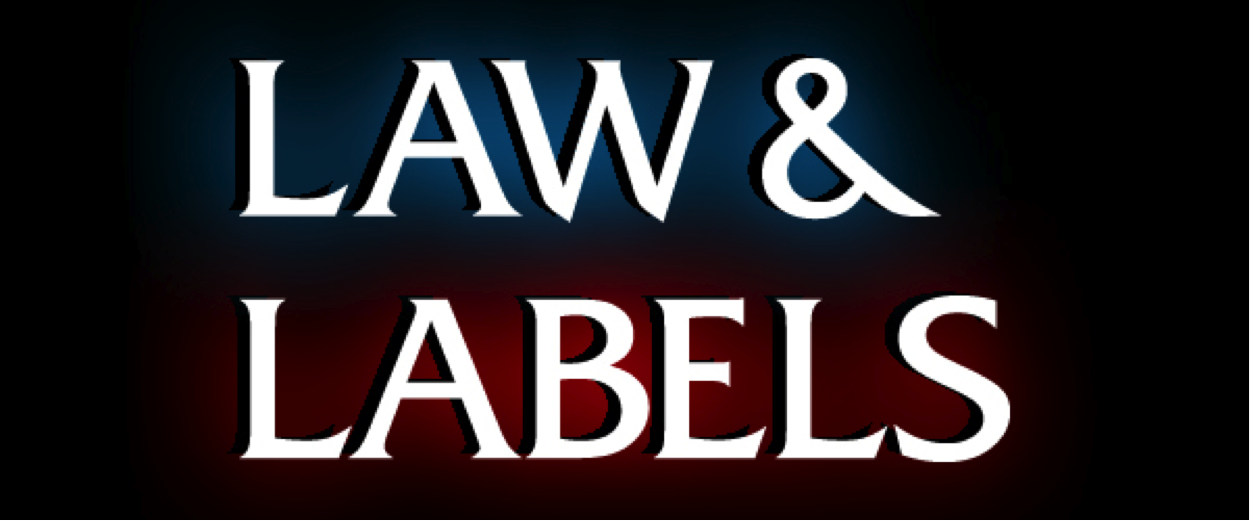 A quirky clothing designer decides she wants to go against the norm and have her tags be different than the rest. After all, who says you need all that mind numbing eye squinting text on your tags? Who says that you can't just label your sizes by color or better yet, be blank...

I'll tell you who. America! Well, the Federal Trade Commission to be exact. There is a ton of info on the FTC website, but good luck actually figuring out what they mean. On this page they talk about everything from leather goods to furniture labeling.

The Care Labeling Rule, which has been in effect since 1972, is nothing to be scoffed at. In 1999 a company called Laissez Faire, Inc agreed to pay a $30,000 civil penalty to settle charges that it violated the Federal Trade Commission's Care Labeling Rule. Basically, they said that garments could be dry cleaned but when the garments were dry cleaned, it resulted in dye bleeding or color loss. The interesting part is that Laissez Faire is French for "let do", but it broadly implies "let it be", or "leave it alone." In economics Lasissez Faire is an environment in which transactions between private parties are free from state intervention, including regulations.

Tommy Hilfiger got nabbed for $300,000 for the same dye bleeding issue. This was actually figured out when a dry cleaner was being blamed and decided to report it. Wal-Mart Stores, Inc., Burlington Coat Factory Warehouse Corp., Delia's Inc., Woolrich, Inc., Gottschalks, Inc., and Bugle Boy Industries, Inc have all settled with the FTC for not having proper country of origin labels.

Here is what you need to know:
Care Labels
The FTC requires all garments sold in the USA to have a proper care label. These labels may influence the decision to buy or not buy the garments. For instance, I may not buy a pair of jeans if I know they have to be dry-cleaned. The FTC does allow multiple care instructions as long as there is a reason for it (Example: For best results, line dry). The labels must be attached and last the life of the garment.

The care instructions must be in English but international symbols may be used instead of written words. Luckily, the FTC has provided us with all of the symbols. You would think that anything having to do with a possible $300,000 penalty would at least be a cleaned up vector graphic...am I right?
Country Of Origin
The Textile Fiber Products Identification Act requires that the country of origin be disclosed on the label. It must be in English and be on the front of the label. It also must be clear if the garment was made in multiple places. If the garment was made in the US but the fabric is from India, it Must say Made in the U.S.A. of imported fabrics.
RN Numbers
RN numbers are actually used in place of a company name. The FTC issues them and they are just as binding as your actual name as they can not be transferred or changed.
Fiber Content
Fiber content must be listed in order of percentage. You do not have to include things like buttons, thread, elastic, or anything that covers less than 15% of the surface area.

"What if I don't know" you may ask? Well, it is now your job to know. If you are doing up-cycled clothing or patchwork stuff and you really have no way of knowing what is what, Duhbe.com has an awesome article on how to handle that situation. I have also gotten some info from them for this blog. Check them out because they have a lot of great info.
Fur
The Fur Act requires that any product trimmed with more than $150 worth of fur be labeled with the type of fur. The Dog and Cat Protection Act prohibits the importing, exporting, selling, trading, advertising, transporting, or distributing of any products made with dog or cat fur.
Penalty
The FTC can charge $11,000 for each occurrence. This is very scary, but keep in mind that between 1990 and 1999 the FTC only brought 16 enforcement actions for violations of this stuff. 15 settles and 1 was litigated.

I assumed I would run in to a ton of stuff about having a size label, but size seems to be the least important part of it. This was the most surprising part of my research. I hope you enjoyed this info as much as I did.

See you next time!