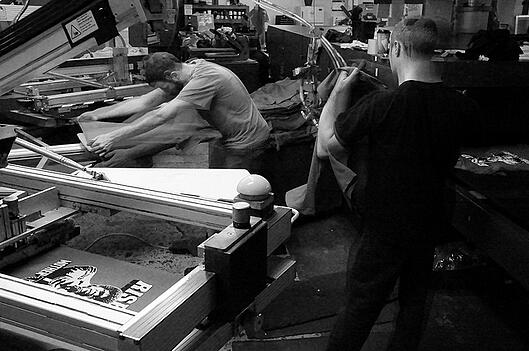 Cole Mitchell is out of breath, talking a mile a minute. "Hey, sorry, I'm in the car right now, we just set up a new website for the shirts today and it went down and I have to go to the bank." This seemingly jumbled string of non-sequiturs makes sense only when you consider that Mitchell had woken up two days earlier with 500 requests for a t-shirt that had an immediate stock of about 50.The shirt in question was for a design of Mitchell's creation, an Atlanta Falcons fan piece-slash-Samuel L. Jackson-tribute called "Rise Up Mother#@$%." Sharprint had done a couple runs of this design late last year and early this year - and as much as we here love the design and are always happy to see reprint requests, we had no way of knowing the design was about to explode in popularity. Neither did Mitchell, 26, who woke up on January 12 bombarded with email requests for the shirts after Falcons wide receiver Roddy White and former wide receiver Brian Finneran both tweeted photos of a fan wearing the shirt.

In the coming days, Sharprint printed almost 2,000 Rise Ups. When the dust settled (and the guys at Word of Mouth were finally able to get more than two hours of sleep a night), I interviewed Cole about the incredible success of the shirt.
Hi, Cole. So how did this now-infamous design come about?
The idea was sparked by the Falcons' popular 'Rise Up' campaign that was launched a couple of years ago with the commercial featuring Samuel L Jackson as the face of the franchise. I thought to myself how funny it would be if the message was coming from one of his foul-mouthed movie characters instead of the clean-cut, choir backed Samuel L Jackson depicted in the commercial. Since Pulp Fiction is one of my favorite movies, Jules Winnfied was my obvious first choice. I quickly mocked together the original design as a joke to text around to my friends. They all really liked the idea and requested that I have some shirts printed. So the first batch was just that, my crude illustration of an idea that I though was pretty funny. After they actually started selling to people outside of my group of friends, I decided that it was worth sitting down and spending some time on the illustration so that it was a good design and not just a good idea. The new t-shirt (printed by you guys) features the new artwork and is what we have been selling ever since.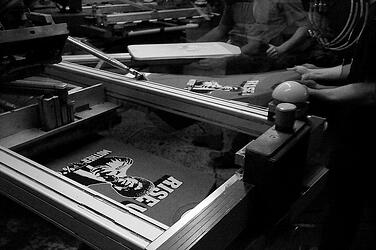 Can you describe the exact moment you knew something was going on with Rise Up?
I was selling them all season but I never really did much to promote myself. I just sold them to people who found me tailgating at the games. It wasn't until Brian Finneran and Roddy White tweeted about it that orders really started piling in and I knew something big was happening. Someone I had sold a shirt to was wearing it at a pep rally where Brian spotted him and it all just blew up from there. I had hundreds of emails pouring in over the span of a couple of hours and ended up hiring my roommate and another buddy of mine to help me sort through all of the requests. Within a couple of days we had a website up and made Word of Mouth T-Shirts an official company.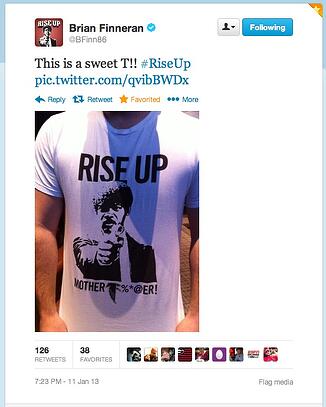 What was the funniest, weirdest moment of this entire experience?
There have been a couple of weird (or surreal) moments. I had the opportunity to meet both Roddy White and Brian Finneran which was incredible. Roddy was even nice enough to give me tickets and sideline passes for the NFC Championship game in exchange for some shirts. It was far and away one of the best experiences of my life (aside from the fact that we ended up losing the game). My roommate and I also had the chance to talk about the shirts on The Regular Guys, a morning radio show based out of Atlanta. It was really cool to get that kind of exposure and support from people that I've been listening to for years. Both The Regular Guys and the crew over at 680 The Fan have been super generous to us and we can't thank them enough.
What's next for you guys?
Word of Mouth is in the process of getting a few new designs out right now. The 'Rise Up' shirts were a big hit but we don't want to stop there. We want to use the momentum they created and the lessons we've learned to turn Word of Mouth T's into a company people can rely on for great shirts with great designs based on ideas worth talking about, especially for the people who live in or love Atlanta.

Word of Mouth T-Shirts