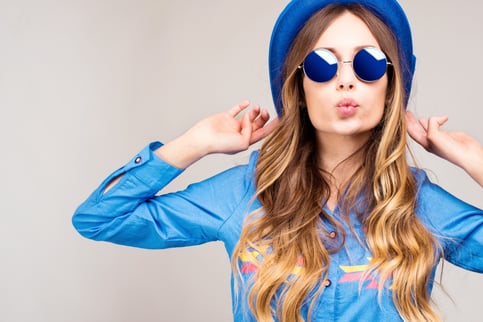 Everything old is new again, especially when it comes to Fall 2012 fashion trends. For those who weren't around for the 80s, the neon colors and puffy sleeves may feel new, young and crazy but anyone who was around at that time may feel a little Flashdance coming on. However, the key to Fall 2012 trend-setting is to maintain a modern, sleek edge with just a pop of retro charm.
Color Combinations
Once upon a time, certain color combinations were frowned upon, such as navy black and blue. Forget those rules as 2012 fades into 2013, as old color rules seem to disappear as well. Black and blue works in chic, sleek patterns or in the bulky, baggy fashions that evoke the 80s so perfectly.

Cozy Up
One of those favorite 80s TV dads, Bill Cosby, always seemed to be wearing a warm, fuzzy sweater as he dealt with the foibles of raising television children. The days of Theo and Rudy may be gone but the dad sweaters are back with oversized graphics and a slightly too-large fit. Pair the sweaters with skinny jeans or a sleek skirt for modern fall clothing.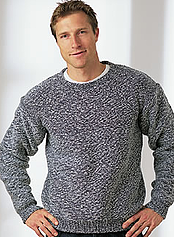 White Winter
Once upon a time, wearing white after Labor Day was strictly discouraged as a major fashion faux pas. Now Fall 2012 trends embrace the concept with rich white knits, flowing slacks and faux fur. White suddenly looks warm and inviting for winter, which makes it an easy trend to follow. The little white dress (LWD) will be everywhere this winter in warm, luxurious fabrics. Pair it with a skinny black belt and a pair of black boots or heels to pull off a former summer favorite for fall clothing.

Another hot trend in Fall 2012 is mixing black and white, such as a white suit jacket and slacks with a sleek black blouse. Think of last year's color blocking trends, only with big blocks of white and black instead of hot pink and red.

All That Glitters
Although silver and platinum embodied richness and wealth in the 90s and beyond, gold was the go-to metallic of the 80s and now gold is once again gaining ground. Pair gold with deep, rich burgundy colors to mimic the Fall 2012 trend of mixing and matching familiar favorites with a retro vibe.
Another trend seen on the Fall 2012 runways were deep burgundy coats and raincoats. Forget that old beige trench coat and update the look to a burgundy jacket with a deep sheen to look model-perfect sauntering down the street.

Animal Prints
Another favorite of the rich and famous in the 1980s included animal prints such as leopard and zebra. With yet another nod to the retro era, 2012 fall clothing turns the trend slightly and favors reptile prints such as alligator and turtle. Mix and match the prints or keep the rest of the look subtle and sophisticated with basic black or denim.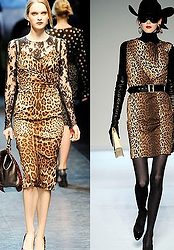 Jump for Jumpsuits
While some perhaps wish that jumpsuits were left back in the 1970s and 80s when the trend first began, fashion designers and celebrities seem to be embracing the jumpsuit with affection in Fall 2012. Keep the look modern with long, sleek and flowing lines and strong, solid colors. Another jumpsuit must includes ensuring that the top fits well and skims down to flowing pant legs to avoid looking more like pajamas than not.
Raging Red
While the LBD (little black dress) will never go away as a fashion must, Fall 2012 saw the emergence of the LRD (little red dress) that offers just as much versatility and style. Select a strong, deep red color with sophisticated lines and pair with a pair of black heels for a chic, current look.

Shades of….Never Mind
Forget the "It" book of Summer 2012 and channel "the" color of Fall 2012 by choosing sleek, slate gray colors. Look for clean lines and body-hugging items to pull off the sophisticated look and pair it with simple hair, makeup and accessories to maintain a polished appearance. Avoid overtly sexy items in gray to avoid inevitable comparisons to the book that everyone was talking about during the summer.

When it comes to 2012 fall clothing, the trick is to embrace the boldness of the 80s with the sleek sophisticated reserve of last season. Achieve a balance between the two by picking one bold item and keeping the rest of the outfit modern and clean-cut. You will then fit right in with the rest of the 2012 trendsetters.