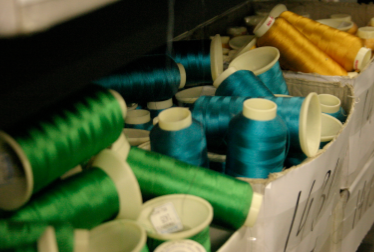 When ordering embroidered clothing it is helpful to understand the process and become familiar with what is available and possible. The following six things to consider will help you to order the right clothing for your needs, fitting your budget, and in the time that you expect.
Do you have your design ready? For some people, creating a design or logo is a piece of cake. Others may need professional assistance or guidance to produce the desired results. Often the embroidery company can help with the design, or you may choose to work with a marketing or design agency. Note that your design will communicate a message – it could be your business logo to identify employees and staff, or it could be your sports logo to unite your team. Make sure your design will send the right message about the person who wears the clothing. Also note that some designs or logos are protected, such as the Olympic rings. Before using a logo make sure you have rights to do so.
Which embroidery technique do you prefer? There are different types of embroidery that can be used for your project. Note that the fabric that you use can affect the quality of your embroidery and the type of embroidery technique that can be used – so consider your fabric choice as well as the other options. The basic embroidery can be used for simple text, logos or graphics. You can also request specialty embroidery such as gradient coloring, puff embroidery, applique and more. If you have more elaborate graphics or art in your design, you may need to provide a high resolution design to make sure the image is properly copied. Consider using vector files created from Adobe Illustrator or a similar product for ideal results.
Stitching techniques and thread types add a special touch. The satin stitch is used the most often, but there are other options to consider for your project. A walking stitch gives a "hand sewn" look to your design. The fill stitch is also available to fill in areas with color and to layer designs. The thread that you use can be one of two types. Rayon is shiny and silky looking that looks very professional. The polyester thread is very durable and strong with not as much shine.
Color matching makes your design. There are different types of thread colors to consider. Metallic, rainbow, reflective, neon, and even color changing or glow in the dark are some of your options. Think about how these different colors can complement your design.
When do you need it? Allow ample time to have your work completed. By avoiding a rush you can receive the highest quality and reduce the stress of trying to accomplish a big project in a short amount of time. Discuss with your provider about what is reasonable. You can put a rush on orders, but note that your price may increase.
Stay within your budget. It is way too easy to go overboard with embroidered clothing because there are so many options to choose from. Have a budget in mind up front, and then make sure your prices and expenses stay within your goals.