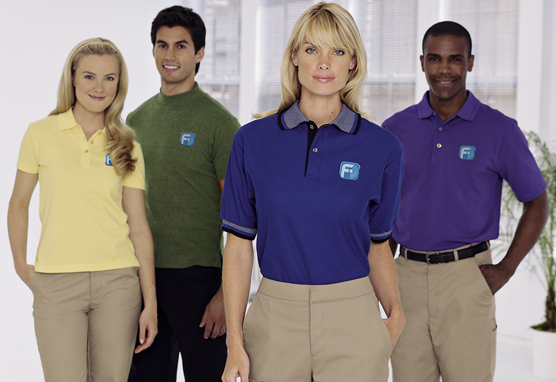 The words "company t-shirts" can inspire a groan. Employees may imagine themselves being forced to wear something uncomfortable, unappealing or ill-fitting in order to represent their company to the public in a professional way. However, with all the strides being made today in the world of fabric, fit, screen printing and embroidery, your company t-shirts can be more pleasure than pain.
Are They Comfortable?
By making your company t-shirts comfortable and fit, employees will eventually enjoy and look forward to wearing your business apparel. It may be tempting to go with a fabric such as nylon, but skip that and select cotton for the best wearability and most comfortable choice for employee t-shirts. If you're scared cotton won't look as professional, simply choose a nicer style of cotton shirt such as a polo, which looks nicer and is still comfortable and easy to care for, as well as suitable for all weather.
Are They Attractive?
Company t-shirts that your employees helped create can also be a big hit. Consider running a contest for your employees and allow them to create digital logos that can be placed on the shirts, and come up with ideas for colors. Most companies like to stay within the colors that are generally used in their business logo, but there is room for creative license. Professional screen printers can turn any logo idea or image into a reality, so the sky is the limit when you're designing your company t-shirts!
Employees like to feel special instead of just like they are part of the group. Make their company t-shirts stand out by adding some specialized embroidery! Embroider the employee's name on the front of the shirt for a hint of personalization as well as a sophisticated look to the shirt. A cotton shirt becomes a customized special company shirt created just for that employee! An employee with a custom shirt will be proud to wear it, and most likely enjoy wearing it a little bit more.
Consider making your company shirts even more fun for employees to wear by adding a tagline or quote about your business. This can be screen printed or embroidered. If your company doesn't have a specific slogan or tagline, get with your employees to create one! Making your employees feel part of the process by letting them design their company shirts, will ensure they will like and enjoy wearing the final product more so than if they were just given a shirt they had no creative input on.
Do They Fit Well?
Your employees will thank you if you consider their individual body types while choosing and ordering shirts. Ask a professional screen printer for advice on this. A specialized pro will tell you to have your employees measure themselves to ensure a proper custom fit for their company shirts. A shirt that fits will definitely be easier for employees to wear, than a shirt that just doesn't feel like it fits right or looks good. Get your employee's measurements and bring them in when you are ready to order you custom t-shirts.
Do They Have Options?
Consider adding extras to your company t-shirts! Matching hats, tote bags or other products can be personalized and customized just as shirts can be; and they add that extra bit of fun to the company t-shirts. A customized cap in a matching color, or a fun tote employees can use to stash their stuff, are cool little add-ons to the idea of a custom company shirt. Talk with a professional screen printer about what options are available for customization that could boost company morale even more than fabulous company t-shirts!
If you're not sure how your employees feel about their company t-shirts, just ask them! Send out a survey before you order the shirts and ask your employees what they would like to see in their custom apparel. Ask them questions such as, what materials do you like best? Get their input on the shirts since they will be the ones to wear them. Then, you can make a final decision before shirts are ordered to ensure that wearing their shirts will be a fun experience for everyone, instead of one they dread!
Your company shirts should reflect the best of your company and your employees.