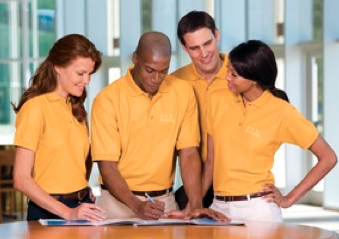 The clothing and apparel industry has evolved significantly over the past few years. Businesses have taken advantage of recent technological advances when planning projects to print their company t-shirts, polos, hats, and much more.
Whether you plan to order branded apparel for your employees or for the gift shop, there are important elements to consider that will prove beneficial when setting your business apart from the competition - no matter what the industry. Things like custom designs, embroidery, fabrics, and colors for your business apparel will allow you to effectively brand your company's product or service while staying unique and special.
Here are a few things to consider before printing custom apparel for your business:
Think Design
The design of your custom apparel will most likely be the first thing people notice and discuss when in your establishment. Depending on the nature of your business, the design may be loud and eye-catching, sophisticated, or just plain simple. For example, if your business is a new tiki bar and restaurant, it may be a good idea to create a design that features bright colors and flamboyant texts. Where as an eco-friendly company might go for a more muted tone with a great quote about the importance of saving energy or conserving water.
Consider Embroidery
Designs can definitely offer many advantages when showcasing your company's custom apparel, but embroidery will take it to the next level. Choosing between specialty embroidery techniques like superior, gradient, textured, or puff, will give your branded apparel the attention it deserves. A company logo can add a one-of-a-kind custom touch to any garment, especially when using specialty thread to add that shiny & smooth look. Logos can be embroidered on everything from polo shirts and hats to towels and laptop cases. Just make sure to consult with a professional apparel decorator when deciding on your stitch and thread types.
Plan For Fabric
No always considered the most enjoyable part of the process, but very important, is the fabric you choose for your business apparel. Recent advances in fabric technology have made it easier for businesses to meet the needs of their employees and/or customers by offering limited constriction, stain resistance, and washer friendly. While it's a good idea to choose the best possible fabric within the means of your budget, you'll want to also make sure you are choosing the best possible fabric for the end-user.
Some popular fabrics include cotton, silk, hemp, and jersey. 100% cotton fabric can come in many styles & colors, and is usually considered to be the standard among most businesses. While silk is quite delicate, it is also extremely washable. Jersey fabric is ideal when making large apparel shipments, as it does not wrinkle easily. Cotton is a highly-breathable, comfortable fabric, while no fabric is a match for the durability of hemp.
And there you have it - the basics of printing custom apparel for your business. For those of you interested in items outside the apparel realm, printing promotional and retail items can work great to compliment your business apparel. From pens to beer mugs, just about anything can be custom designed and branded to your liking!