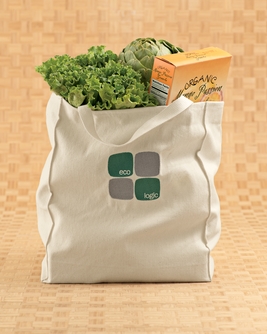 Time to start stocking up on some reusable grocery totes! It's a good idea for some obvious reasons. Plastic grocery bags aren't able to be recycled, so 90% of them end up in landfills. Most plastic grocery bags are made from polyethylene, a byproduct of petroleum and natural gas. Both are nonrenewable resources that create more greenhouse gases and increase our dependency on foreign oil.In the not so distant future, paper, plastic or "other" might not be your decision to make, or you could end up paying more if you want to use plastic bags. Los Angeles recently banned plastic grocery bags to be rolled out over 16 months. Additionally, there will be an additional charge to use paper bags supplied by the grocery stores. Maryland's Montgomery County is one of many to introduce a fee for using plastic bags.
Custom screen printed grocery totes are great to sell or giveaway to promote your business. I've kept every giveaway tote I've gotten because they often come in handy. I even have a designated drawer to store the collection. They come in handy when you want to bring some sides to a BBQ you're attending, taking lunch to work, bottles of water for a picnic and so many other circumstances when you need to carry extra "stuff". They work perfectly as reusable grocery bags, which don't take up much space.
Grocery totes are also cool to personalize, even if you aren't promoting a business. Screen print the family name, crest, or some other design; and give every one in the family a set of their own. Along with printed t-shirts at a reunion, let everyone walk away with totes. If you have a clothing line or you're an artist, consider adding a custom printed tote to your inventory. Fashion, form, and function!
Polypropylene is the fabric most associated with promotional giveaway totes. These even come in insulated versions. Cotton totes are sturdier and tend to take a bit more wear and tear. Cinch sacs sling over your shoulder and are convenient when you are carrying more than one bag. Let's not forget the quintessential grocery tote - the one made from organic or recycled material.
Don't wait for government regulation or store policy changes. Start making a positive change for the environment's sake today with re-useable grocery tote bags.