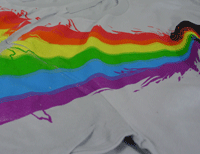 Once you have made the decision to develop your own custom designed t-shirts, you might wonder what your next step should be. The truth is that your experience will depend almost entirely on who your t-shirt printer is - so you had better select wisely.
Choosing to partner with a company that offers a variety of different styles of printing will ensure that you are exploring all of your options and selecting the best option for you. Experienced t-shirt printers understand the importance of taking a consultative approach, and will take into account your needs and budget to find the ideal approach.

Finding a great t-shirt printing service to partner with is key, but there are steps you can take on your end as well. As you go through the steps of custom designing a t-shirt, it can be extremely helpful to understand the ways the process should work. Read on to discover the inner workings of a t-shirt printer service.
The Process
Though the general process of designing a custom t-shirt is consistent, the actual turnaround times and things necessary for production vary widely. In some cases, you may feel comfortable outsourcing the production completely. In others, you will likely want to ask for a physical sample of the t-shirt you designed before moving forward on full-scale production.

Throughout the process of custom designing a t-shirt, you should expect a high level of communication from your t-shirt printer. Communication is the key to making sure that things are good to go and that all of your expectations will be met when it comes time for the finished product.
Screen Printing or Digital
Screen printing is one of the most popular options among t-shirt printer services. This traditional style of designing custom t-shirts has evolved somewhat in recent years, but the basic process of using a stencil to create a shirt with a clean finish has not changed a bit.

Digital printing is an increasingly popular option for people looking to get custom designed t-shirts as well. In recent years, the quality of digital printing has improved by leaps and bounds. The biggest benefit of digital printing is the efficiency and low cost for custom t-shirt production that is limited in quantity.
Embroidery
Embroidery is one feature of custom designed t-shirts that is totally optional but can really set your design apart. Be sure to ask your t-shirt printer for some examples of their embroidery work.

Introducing an embroidered pattern or logo to your design is a surefire way to give your design some creative flair. Your t-shirt printing service should be able to offer advice on what kind of embroidery will work best with your product.

Ultimately, perhaps the most important thing to keep in mind as you begin the process of selecting a t-shirt printer is that you want a service that has experience with different styles and techniques. Particularly if you are new to custom designed t-shirts, selecting a printer that has the flexibility to meet your evolving needs is one huge way to guarantee that you will be happy with the end product.