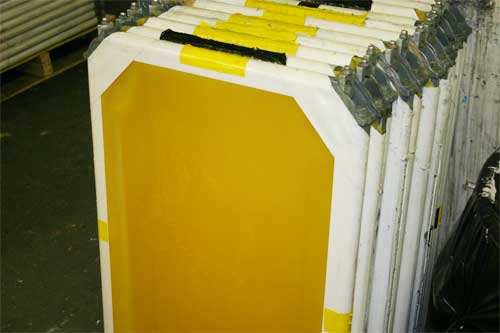 "BackRub it". That's what the world would be saying had Google not changed their name in 1998. Before cracking open an ice cold Pepsi Cola, we were all sipping on Brad's Drink. We no longer lace up our Blue Ribbon Sports, but instead, our Nikes. And the days of referring to the process of decorating a garment as Silk Screen Printing are over. It is now simply called Screen Printing.
So why did the word silk get dropped from the term silk screen printing? It's really an easy answer. It's because the silk got dropped out of the screen printing process.
Mesh is the fabric stretched over a frame to make the screens in screen printing. In the early days of screen printing, silk thread was woven to create this fabric. The silk fabric was stretched over a wooden frame. Today, most mesh is woven from polyester mesh and stretched over an aluminum frame.
Silk was replaced with polyester for a number of reasons:
Polyester is cheaper
Polyester is easier to produce
Polyester is a stronger material (less fragile)
Polyester can be made of different thicknesses
Many people still refer to screen printing as silk screening, although technically it's not. However, all decorated apparel companies should know that screen printing is what the customer is referring to.
On the other hand, if I were thirsty and asked someone where I could find a Brad's Drink - I'd probably have to BackRub it.