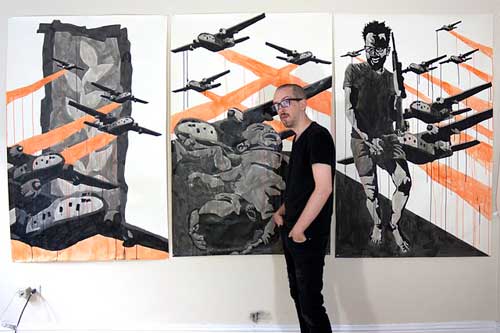 In order to be a great screen printing company, great artist are essential. Not all art files work in screen printing, making it extremely important to have skilled, professional artist dealing with all art files and creating proofs for clients.
We're thrilled to introduce our newest production artist, Jake Saunders, to the Sharprint team.
Jake is an artist hailing from Muncie, IN. He received a BFA and MA in Printmaking from Ball State University and a MFA in Studio Art from the University of Connecticut.
Jake's job and responsibilities consist of creating proofs for new orders, creating custom designs and working with clients to get what they want out of their images. Jake has been with Sharprint since early June and has been working directly with clients to ensure that what they envision, is what gets printed.
When Jake is not working on art for his client's decorated apparel, he is "painting, drawing, taking photos, making collages and getting smelly and dirty". After asking Jake to briefly describe himself, he went on to say, "I'm vegan, near sighted, a cat person and I think I'm an Aries".
Jake's personal art has been showcased around the world; to name a few places: New York, Chicago, New Orleans, Atlanta and London. Check out Jake's work for yourself on his personal website.