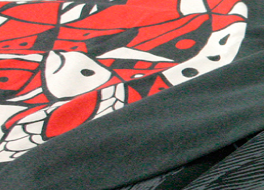 The modern day apparel industry is forever changing & evolving with new technologies and techniques. Throughout these changes, there has remained a common technique most popular for printing on light garments and vintage apparel. The technique is called soft-hand printing, and it includes a method that uses fashion soft base additives and water-based inks.
Here are 4 reasons soft-hand printing has become a popular choice of print:
1. White & Light Garments
Soft hand printing easily lends itself to designs on white and light-colored garments, particularly when combined with water-based inks and soft base additives. Using soft-hand print on dark garments is a bit more challenging, as it may not show up as well. Discussions with screen printers are necessary to ensure the right design/look. Utilizing soft-hand print on vintage and distressed garments is recommended as it makes the print appear more "authentic," particularly on high count pieces.
2. Softness & Detail
Forget hard-printing inks that crack and split after one or two washings! Soft hand printing does create that "plastic feel" when using plastisol inks - which is typically unnoticeable after a single washing. And while soft hand options are more pliable, inks mixed with such additives still provide the detail that standard ink options provide.
3. Printability & Opacity
Inks mixed with soft hand additives print easily due to plastisol content, and are a subsequent favorite of screen printing companies. It is important to note that pantone inks mixed with such additives may not turn out exactly in terms of color, however the result will still be close to the original hue. Pantone colors mixed with soft hand additives become more transparent, which is why they work so easily on light garments as opposed to darker options. When printed on white or light garments, they create a washed-out design, but are barely visible on dark items.
4. Detail & Curing Time
If the garment in question features smaller areas of design, note that ink can dry in these areas - which can result in detail loss. Curing time is slower with some versions, which can be somewhat tedious to get the right design; however, the result is still long-lasting and natural when printing is done on light or white garments.
While there are pros and cons to all types of screen printing, soft hand options create a natural, pliable look that works well on a variety of light-colored garments. Look into soft hand print as a viable option for printing any number of clothing items!