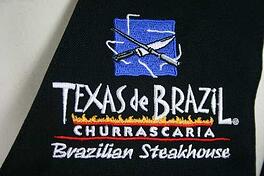 In the decorated apparel industry, it is very important to capture the greatest level of detail possible to leave the customer with the end result that they expect.
With a professional digitizer and the appropriate machinery, it is possible to achieve very detailed and excellent embroidery results.
However, there are limitations to the amount of achievable detail when applying embroidery. When embroidering letters, it is important to follow a few guidelines and understand what will and will not work.
Just like in a limbo contest, you can only go so low before things turn ugly. The height of an embroidered letter should ideally be no smaller than a quarter inch. Trying to go any smaller than a quarter inch will likely result in sloppy, illegible text.
Both script and block fonts can be embroidered at a quarter inch (.25 inch or 1/4 inch). The type of stitching will probably be different, since the thickness throughout a script letter is not consistent. For example, the block 'S' below can be embroidered using a satin stitch (which is the most common stitch type when embroidering letters). On the other hand, the script 'S' below would use both a satin and walking stitch. The walking stitch, which is used to capture very fine detail, would be used on the thin areas of the 'S'.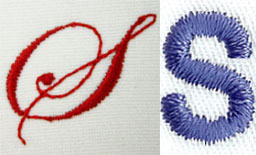 High pile fabrics (fleece, sweatshirts, hoodies, towels) cause another issue when embroidering letters. Small letters can become lost in the fabric, resulting in unreadable text. On a positive note, there are ways to deal with this problem.
One solution is to use a dis-solvable plastic topping known as solvy. Solvy is used to create a smooth foundation for embroidering custom designs. This topping is placed on the fabric before the sewing begins. The thread is then embroidered on top of the solvy, to help avoid the text from being buried in the fabric. The excess solvy, which wasn't sewn over, can be ripped off the garment or misted with water, which will cause it to dissolve.
The second option is to use a small fill area, basically creating an underlay of stitches for the text to be embroidered over. When using this method, the tone of the thread matches with the tone of the fabric to give it the look that no underlay was used.