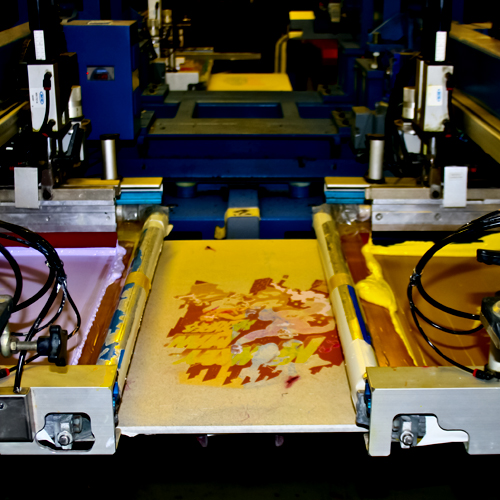 Whether one chooses a traditional screen-printing process or a modern digital printing process, custom t-shirt printing is easier than ever before. Each technique offers unique advantages, so make sure to consider all elements before choosing screen-print or digital.
Screen Printed T-Shirts
The screen-printing industry is continually growing and changing. Press and equipment companies are developing new machinery and technologies every year. This revolution has led to ground-breaking technology that has led to increased efficiency and quality.
With this advancing technology, the process for t-shirt printing is not only considered an art, but a science. While there are different methods used for screen-printed t-shirts, all-over printing garners the most attention. This printing of the entire surface area of a t-shirt depends on the desired style of art, and can vary in complexity and price. There are 3 main types of all-over printing: One Color, Standard, and All-Over-Plus.
One Color All-Over Printed T-Shirts
One Color prints can be considered the simplest of the three methods. It consists of a single color of ink, which is passed over the entire surface area. For optimal quality, one shade variation is usually recommended.
Standard All-Over Printed T-Shirts
With this method, multiple spot colors are used to print over the entire t-shirt. As with One Color, shade variations can be implemented, but remember, simple is better.
All-Over Plus Printed T-Shirts
If 'dress to impress' is your motto, All-Over Plus will definitely get you there. Multi-color designs are used in conjunction with a One Color AOP for this method. Or you can take the route of adding additional print to a Standard AOP.
Overall, there are a number of steps involved before a request for a t-shirt project reaches packaging & shipment. Here is a quick breakdown:
Review Art Submission
Art Proof
Color Separation & Film Output
Pre-Press Meeting
Screen Exposure
Screen Prep for Production
Mixing Ink
Set Up
Read More