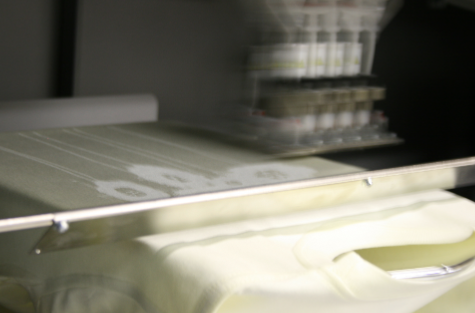 Traditionally, the bright t-shirts with colorful logos and statements sold in retail stores and handed out by companies as promotional items are made using screen printing techniques. Interestingly, screen printing techniques first appeared in China around 960 AD and Westerners began to develop the technique into mass production in the 1930s. While screen printing continues to be a popular method of image transfer, digital textile printing is emerging as a popular option with lower costs and faster results than screen printing.
Screen Printing
Achieved by imposing a design onto a fine screen and then pressing ink into the screen over the desired apparel item, screen printing has been the primary textile printing technique for years. During screen printing, different images and colors each require a new screen or transfer sheet, requiring several steps to obtain the desired effect.

Screen printing is also a common print method for designs on everything from balloons to clock faces as well as t-shirts and other garments and textiles.
Read More