Basic Thread Types
There are two main thread types used for embroidery. They are rayon and polyester. Each type of thread has it's advantages and is selected based on the logo or design and type of fabric to be sewn.
Rayon thread is shiny and smooth. It has a soft finish and is best for more delicate or high end clothing including corporate apparel, polos, and garments intended for retail sale.
Polyester thread is the more of a utilitarian thread and is used more often in uniforms for sports teams or industrial industries. It has a more matte appearance and is durable and strong. Polyester thread is also known for it's ability to withstand bleaching, detergent, and hot water.
A Selection of our Specialty Threads Metallic Threads-
Metallic threads add a great contrast to many embroidery designs, however they can present a challenge to work with even for experienced embroiderers. Metallic threads feature a metal wrapping around an inner core. Because of this delicate structure, the less they are handled the better. These are also more expenive threads and much more difficult the sew. There is a $1.50 upcharge per location when using these threads.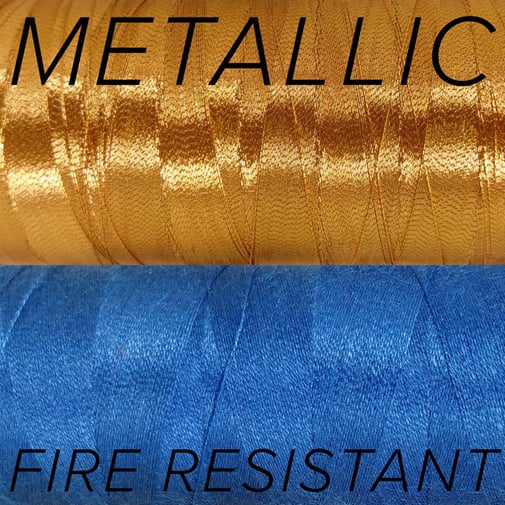 Fire Resistant Threads-
Fire resistant embroidery thread are of interest to industries such as fire and safety, motor sports, aeronautics, transportation, public buildings, as well as children's and infant's wear. These threads are available in a variety of colors ranging from bright electric orange and fire engine red to soft pastels of pink and blue.
Solar Active-
Solare Active thread is a special brand of UV embroidery thread that actually changes color in the sunlight. An extraordinary new thread designed and tested for today's high-speed embroidery machines that actually changes color in sunlight. Available in six sun activated changing colors. The thread is significantly more costly and more difficult to embroider so there is a $1.50 upcharge for using Solar Active thread.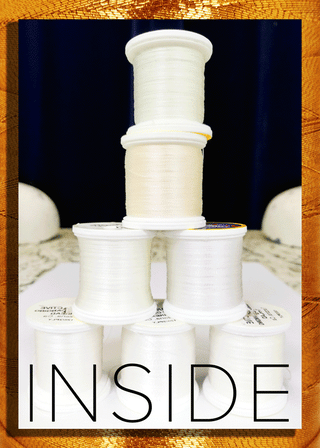 Choosing Thread Colors-
Most designers and graphic artists refer to Pantone colors when assigning specific colors in logos and art files. However, not all Pantone colors are available in threads. Chances are there is a thread color that will make a close match to the Pantone color that has been called out.
Thread manufacturers provide thread books that have a quick reference chart for Pantone conversion if you have specific Pantones selected. You can always consult with your decorator and even stop in to view the book and select from the thread colors that are available. There are even specialty thread options you may not know about, such as rainbow, reflective, neon, and glow-in-the-dark.