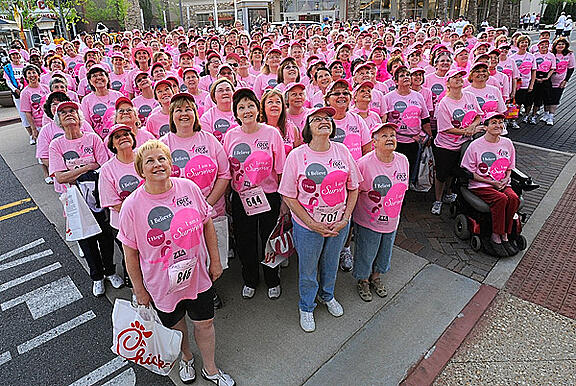 Promotional marketing through the use of custom apparel & products can provide a number of useful techniques to drawing customers in based on the items you offer and visually display. Executing a variety of promotional tactics with custom apparel & products can offer a low cost and highly effective way of building brand awareness around your business and events. This type of marketing has proven successful time and time again across all types of business genres.
Below you'll find six promotional tactics that can be used to benefit your organization's brand, products and/or services, reputation, and overall perception during events and digital engagements.
1. "Always Be Closing"
As a business owner, you're most certainly familiar with the ABC's of sales. So why not increase your reach by providing members of your organization with comfortable and slick custom apparel that they can casually wear when out on the town. Who knows, you might just spot your branded apparel while attending a local sporting event, county fair, shopping mall….or maybe even the pub round the corner!
Giving away custom apparel or products to your members that feature your branding can offer a low cost way of piquing interest and increasing reach on an audience you wouldn't regularly see walk in to your establishment. Word of mouth through apparel & products can spread like wildfire!
2. Giveaway Promotional Items with Purchase
When customers purchase your product or service, why not offer incentive to attend a future event or upcoming sale by giving away promotional items that display key information that might include specific dates, locations, or product launches.
Ever rock out to your favorite music group to eventually find yourself buying that very expensive, but must-have concert t-shirt displaying all upcoming tour dates & locations?? We've all done it! Take advantage of your giveaways by providing specific information that gives your customers a reason to keep coming back.
3. Strive to Raise Awareness and Perform Acts of Goodwill
Attending events that allow your organization to give back to the community or donate to local charities can go a long way. Make it annual by raising awareness through the use of giveaways such as t-shirts or water bottles that display colors representing a specific cause like pink for breast cancer, orange for multiple sclerosis, or purple for Alzheimer's.
A notable example of this is the NFL, an organization that does a great job of raising awareness for breast cancer each year by representing the color pink through its football players who represent by wearing pink gloves & cleats, the football field which displays a large pink ribbon, individual footballs each branded with a pink, and anyone else associated with the NFL. These acts of goodwill and kindness never go unnoticed.
4. Leverage Your Social Media Audience
Your organization's social media pages can be used to promote and giveaway items such as customized hats, t-shirts and key chains. Take advantage of Twitter, Facebook, Google+ and LinkedIn to engage your customers and prospects by offering trivia or friendly competitions about your company. The prize? Why not a customized product featuring your business logo and other marketing content. Get the buzz going about your business. Tactics used that offer valuable information, humor, or incentives through engagement for your audience, are sure to get the word out in a big way without being overtly sales driven.
5. Orchestrate Organizational Activities
Encourage your employees, volunteers and interns to hit the streets wearing your branded custom apparel, while also performing an organized dance, song or skit of some sort. You'll immediately draw large audiences as a result. Maybe even use that time to hand out fliers, t-shirts and coupons that potential customers can use to save money when purchasing your products or services.
By using the above promotional tactics through custom apparel & products, you can expect to build brand awareness around your organization while having fun doing so! Who knew that promoting your company could be so fun?
Has your organization leveraged any of these promotional tactics? What would you add to the list?