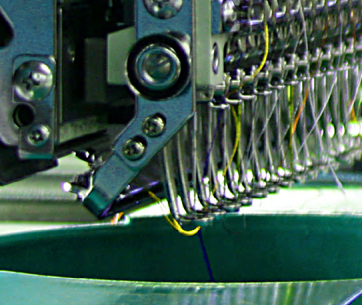 Custom embroidery has the ability to add polish and professionalism to all types of work uniforms and apparel; however, there are a few other reasons to keep in mind when considering custom embroidery for your workwear. Whether it's for retail, the restaurant industry, the hotel industry, or any other type of business where uniforms are worn, custom embroidery can make your uniforms stand out, while also creating an unmistakable promotional signature for your company. Below are few things to keep in mind when considering embroidery for your uniforms.
Custom embroidered shirts can help add to your overall marketing and advertising strategy. When your employees are wearing their embroidered shirts, it can leave a lasting impression on your customers and prospects who are visiting your establishment. Embroidered shirts give you the chance to say something about your business, with your employees as the medium. This includes your tagline, catchphrase, business phone number, or simply a neat looking logo.
Embroidered uniforms look great when adding custom elements. Custom embroidery spruces up a plain looking uniform and can make it look professional and sleek. Moreover, additional details can be added to make the uniform more unique (i.e. employee name and hometown). There is something that just looks finished about a personalized, embroidered uniform that a plain uniform lacks.
Your business becomes easily identifiable with custom embroidered uniforms. Your employees will stand out in the crowd, and the embroidery will set their uniforms apart from other businesses.
You can also use embroidery as an added bonus for employees to do their best on the job. For instance, if you are managing a restaurant, have the head waiter's title inscribed on his uniform to make him stand out to the workforce. If you work in retail, your assistant manager can have her title embroidered on his/her uniform. Maybe even allow your employees to choose a custom designed element with their name that truly portrays their personality.
Custom embroidery speaks volumes about your company. Embroidery is a sign of quality and professionalism, and shows that your business goes the extra mile with your uniforms. Since custom embroidery is made to last and is created with high quality materials, it looks expensive and stylish. Using embroidery can reflect well on your entire company, especially since many people form opinions about a company by merely looking at its employees work attire. Since this is generally the case, make the first impression a lasting and positive one with embroidered uniforms.
Custom embroidery can encourage teamwork. You will inspire unity among your workers as they proudly wear their one of a kind embroidered uniforms.
Dazzle customers with your tagline or other promotional opportunities! If you don't get to promote your Facebook page often because you are a local business, put your Facebook address on your employees' uniforms. Alternately, add a catchy phrase or fun logo to the shirts that will be memorable enough to warrant customers returning to your business.
There are a myriad of reasons to use special embroidery on your employees' uniforms. The most important ones are easy to remember: promotion, professionalism, and polish. Embroidery creates a quality looking garment that can make leave a great first impression on customers.