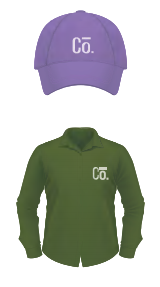 The following is an excerpt from Sharprint's popular guide "Beginner's Guide to Company Apparel". For more expert tips on company apparel and uniforms, be sure to check out the full guide.
Decorated apparel for your company is a must have for so many reasons. Uniforms create a sense of unity and make employees easily identifiable to customers. Give away t-shirts are a favorite swag item and, if designed well, spread your company name far and wide. Customers that love the products or services you offer will happily purchase cool retail items to support your business and display their pride.

1. Brand
A company's brand describes it's personality. Distinguished, reliable, fun, personable - these are all adjectives that can describe a company or company image. You can probably come up with some adjectives off the top of your head that describe your company. This personality is communicated through your company's brand, which can include your company logo, colors, and a number of other factors.
The style and type of garment, how the logo is used, colors involved, art elements and decoration technique, all contribute to what is communicated about the brand and how your message will be received when you are designing your company's apparel.
2. Garments
You will probably want to work with your decorator to decide on the specific brand and style of apparel for your purchase based on price and availability. They are clothing experts and can help you get the style, quality, and price point you need. Of course, if you already have a brand in mind, ask for it by name.
When deciding which garments to customize, consider who will be wearing the item and what they will be doing. If your company apparel is for uniforms, consider the job position and environment in which the work is performed
3. Decoration
There are three primary techniques used to customize company apparel. These processes are screen print, embroidery, and digital printing. Casual clothes ordered in large quantities may be best suited for screen printing, whereas fast turns on full color designs may call for digital print production. Embroidery communicates high quality, professionalism, and elegance.
4. Budget & Timeline
A two-week turn around time is a safe estimate for most production companies. Usually customization companies offer rush options if you need the product sooner than their standard production time. Be aware, this can cost more and can depend on how quickly you need your order. Good decoration companies will have a process in place for proofing new custom orders. If possible, leave a couple of extra days for this. There are many steps involved when producing a custom decoration order and on occasion complications occur. If you're order is related to an event, leave as much time as possible for production.
Continue reading the full Guide to see the remaining 2 concepts...