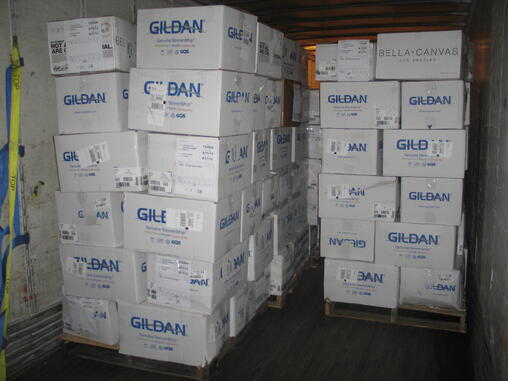 It was an awesome surprise to see a Gildan commercial during one of the coveted and highly regarded ad slots during the Super Bowl last Sunday—quite a clever one at that! If you missed the ad and don't yet know who Gildan is, we've decided to re-run Bill's blog article from last August. Be sure to scroll down and view the commercial!
The photo to the right is not an unusual sight here at Sharprint, nor at any other major printer for that matter: a UPS box truck half full of Gildan t-shirts. Why, you might ask, is this the case? Gildan provides it's customers with consistent quality at a relatively inexpensive price, but is there more to it?
Founded in 1984 by Glenn and Gregory Chamandy, the still relatively young company has grown in leaps and bounds in the past few years. In 2011 alone, the company grew 31.6% thanks to a $1.7 billion in sales. Their reach has gone as far as to be asked for by name by print customers the world over.
Why Gildan has become such a ubiquitous presence could be attributed to a number of factors (not the least of which being): their introduction of an extremely affordable product; it's keen eye for acquisitions - most recently Anvil and last year Gold Toe; or, perhaps, their focus on the well-being of their employees and the environmental sustainability of their practices.
Gildan's corporate website boasts its mantra "our attitude determines our altitude." This can clearly be seen in its quality standards and even more importantly their employee relations. In 2011 97.6% of Gildan employees were permanent; this impressive figure may be further magnified by the number of people they employ: approximately 30,000.
Gildan's doctor staffed 24 hour health clinics provide pre-natal care and free vaccinations for employees and their families as well as a revolutionary employee drug store practically onsite at their Honduras facility. They practice mandatory maternity leave and sponsor a company held baby shower for all expectant mothers.
After performing a Life Cycle Assessment in 2010, Gildan began tackling the enormous environmental impact that manufacturing causes. A Life Cycle Assessment is a study that takes into consideration all of the environmental effects of a product from "cradle to grave", and, as one might imagine, creating textiles can create a fairly large footprint. The results of the study showed that the majority of the affects of their products actually came post consumption or after it had already left their hands, due to consumers washing and drying their products.
Not to be content with passing the buck to the unassuming consumer, Gildan chose to reduce in the areas for which they were responsible. In 2010 80% of their waste was recycled and in 2011 they upped that percentage to 92%, reducing the amount of waste that went to landfills by 28%. In an attempt to reduce their carbon emissions, Gildan is in the process of converting their energy generating apparatuses from oil to biomass steam generators, which reduced their oil consumption by 18%.
Gildan is a textile manufacturer whose reach has gone global over the past 28 years. Whether their successes can be attributed to their business cunning or their civic considerations is hard to say. But what is not hard to say is that Gildan is paying close attention to two things intrinsic to all manufacturing: a place to run the machines and the people who run them.

Some extra useful resources:
Gildan Code of Coduct
Corporate Citizenship 2010 Interim Report