What's new in digital custom apparel?
Digital printing revolutionized the custom textile industry. There's no question. By meeting the demand for affordable, mid-to-low volume print orders in full color, businesses and organizations of all sizes have been able to customize apparel for work-related occasions and events. Samples for advertisers and marketers can be made quickly to support presentations. And we can't say it often enough - YES! You can bring that hilarious t-shirt idea to life.
Direct-to-garment (DTG) is the pioneer process for digital printing on apparel. Yet for all its advantages, printing directly on the garment is not great for every fabric. Direct-to-film (DTF) is the long-awaited digital solution for fabrics that aren't well suited for direct-to-garment printing.
In this article, you'll learn the limitations of direct-to-garment printing and how direct-to-film provides a solution.
Pros & Cons of Digital Textile Decoration
Both DTG and DTF are digital apparel decoration methods that need very little setup. They are both very affordable - especially for smaller runs. High-resolution images make outstanding digital prints using both processes. The key to choosing a decoration method is in knowing how they differ.
Direct-To-Garment Printing
DTG printing must be on 100% cotton. Digital textile ink is water-based and doesn't adhere to polyester fibers and other non-porous, synthetic fibers. Think of how water beads on a car that has been waxed.
That said, the dyes used for certain color tees can bleed into digital prints. This tends to happen with neons, purples, blues and charcoals. Check with your decorator on any extra bright or unusual colors from the get-go on this!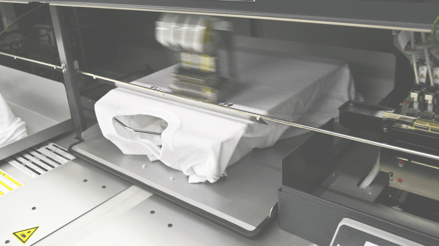 Direct-To-Film Printing
DTF printing is done on the same printer as DTG using the same water-based ink. The ink, however, is printed on a piece of specifically designed film. Next, the image is transferred to the garment using an adhesive powder. Since the transfers don't require the same high heat as DTG, direct-to-film printing can even be used with water-resistant materials such as rain jackets, aprons, bags, and other products that can be challenging to print.
At this point, you may wonder why not to use DTF for every digital order. The answer is simple: time. DTF is fast, but DTG is still faster by a significant amount.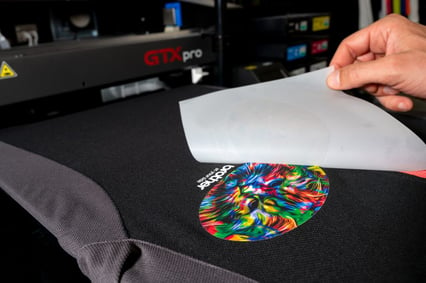 When To Consider Direct-To-Film
If you're printing on a 100% cotton DTG is likely a good option. If it's a color you haven't used with DTG before, ask your decorator. Your decorator has probably printed DTG on every color or will know when to run a test.
Common Uses For DTF Decoration
Polyester, polyblends, moisture wicking, or stain-resistant fabrics

Bright, rich, or unusual colors

Full-color hat logos

Inside tags

Coats

Aprons, chefwear, restaurant apparel