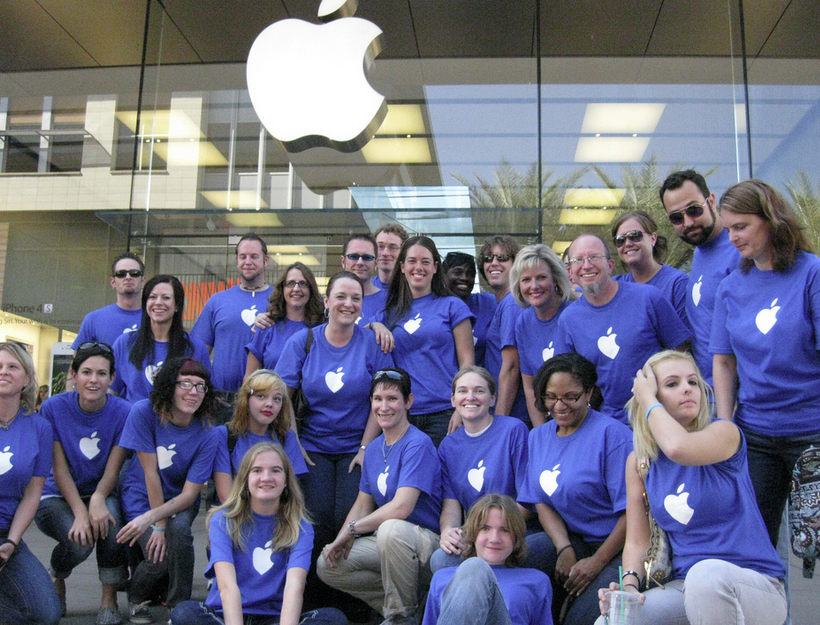 There's a gazillion different t-shirts you can have printed for your business. If you are considering a custom order, think about the following 10 items to help narrow down exactly what will best meet your needs:
1. Purpose.
Is this a giveaway shirt to promote your business? Will the tee be worn by employees as a uniform? Will the tees be sold as retail items? The purpose of the garment is a determining factor for a number decisions down the line including garment and how much you want to spend.
2. Audience.
Will men, women, or both be wearing these shirts? Are they under 18? Over 40? The demographic of the person wearing the shirt will influence decisions from the type of art to the color of the t-shirt.
3. Image.
What image should the t-shirt convey? Contemporary and clean? Wild and fun? The superficial message communicated by the t-shirt should represent your business and the kind of products you offer.
4. Brand.
How and how much of your specific brand should be represented on the t-shirt? The size and placement of your brand identity depends on the amount of name recognition appropriate for the goal of the garment.
5. Garment.
Is durability your number one concern for the custom t-shirts? Perhaps sustainability is your number one priority. Selecting a fabric is the foundation of the actual t-shirt printing process.
6. Timeline.
Is the t-shirt for a specific event? Is that event less than a week away? Some print processes take longer than others and may need more lead time. This is an important factor when considering a custom t-shirt order for your business.
7. Quality.
Will these shirts be worn in situations involving a lot of wear and tear? Will the printed tees be washed frequently? Some weaves are stronger than others and this is definitely a factor you will want to consider.
8. Artwork
Are you an artist? Do you have an artist to work with? Perhaps simple typesetting is all you need to have done. Each shop will have some guidelines for art submission.
9. Cost.
Do you have only a small allotment for your printed t-shirts or is the sky the limit? Each step of having t-shirts printed will have a good, better, and best option.
10. Repeat.
Is this a one-time special order or do you envision ordering more of the same or similar tees in the future? In most instances you can save money by ordering larger quanties. A little pre-planning can help you save a lot of money!
Whew! Seem like a lot of factors to consider? Get in touch with a customer service rep right away to help simplify the process and make it easy to get the perfect t-shirts printed for your business.