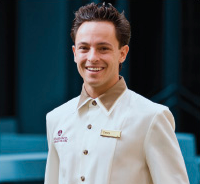 Most everyone has met a hotel employee at some point in his or her life or perhaps has worked for or is currently working for a hotel. The hotel industry is extraordinarily large and is the world's largest private (non-governmental) employer. As such, literally millions of people around the globe work for hotels and almost all wear a specific uniform when they go to work.
The question for many hotel managers and owners as well as hotel employees is how to distinguish their hotel from the competition, in looks, service, accommodations, facilities and staff.

One of the least expensive ways to do this on a business-wide level, as well as on an individual level, is to spice up those boring old hotel uniforms.
1. Contribute Color
Forget the bland neutrals of most hotel uniforms. Employers or business managers can select bright, bold colors to spice up hotel uniforms. This may mean new uniforms entirely or might include a simple upgrade, such as new shirts, blazers or vests in an attractive, bright color.

Individuals who already have a required (but uninspiring) hotel uniform can add color in small ways, such as a bright scarf added to a pocket or around the neck, if allowed in the hotel employee dress code.
2. Add Accessories
One easy way to revitalize hotel uniforms that are already in place without much money or effort is to add simple, personalized accessories.

Individuals can wear attractive hair accessories or jewelry to add some visual interest without changing the scope or design of the uniform. In addition, managers can easily add interest by handing out accessories for both men and women as employee appreciation gifts.

For example, both sexes might appreciate attractive braided leather bracelets or necklaces, especially in a resort-like environment.

Moreover, employees may give permission to employees to select their own jewelry or hair accessories to add personality to their outfit, all at no additional cost to the employer.
3. Include Individuality
Personalize each uniform for each employee for a special, interesting touch. For example, the employee's name might be embroidered onto a uniform shirt.

Yet another idea is to screen print updated hotel logos on t-shirts or other more relaxed uniforms and allow employees to wear them on weekends or "Casual Friday" events throughout the hotel.
4. Fancy Footwear
Another simple way to spice up hotel uniforms is to include some snazzy shoes as part of the employee uniform or allow some freedom in the dress code. Shoes are a subtle but noticeable way to allow for new and different styles, fabrics, colors and overall appearance improvement.
5. Purchase Patches
Patches are widely available and come in an amazing array of subjects, colors and sizes. Employers can allow hotel employees to support local sports teams, charities or organizations with simple, easy patches.

Many management teams embrace patches handed out as awards for excellent service and years of employment. Employees often quickly want to earn their own patches to add to their hotel uniform.
Moreover, service patches quickly invite positive communication with guests who notice employees who are wearing "Exemplary Service" or "10 Years of Service" patches.
6. Tailor Touches
Finally, one of the easiest ways to improve the appearance of hotel uniforms is to ensure that each uniform fits each individual employee well. After all, any outfit tailored to fit the body shape and type of the individual immediately looks more attractive and professional. When each hotel employee is wearing a crisp and clean uniform that flatters them specifically, the entire group looks better as a result.

Improving the appearance of hotel uniforms may seem like a daunting task but is actually quite simple and easy. Management and staff can work together to come up with innovative ideas that work in their specific environment and may just improve employee morale at the same time.