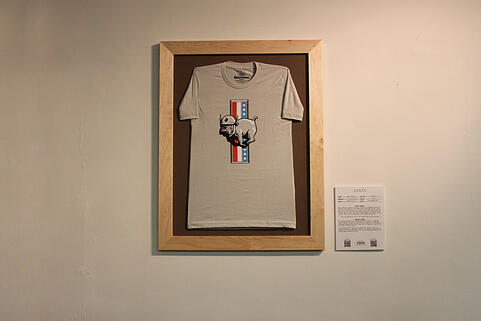 Recently, I had the great fortune of meeting Tyler Way, artist/designer of the TWAY Collection, and co-founder of [Fashion Has Heart]. Sharprint was printing Relentless, a t-shirt in The Corporal Hoffman Series that is a part of Threadless Causes. He stopped by the shop to take some photos of the printing. The t-shirt design is part of a much bigger project, [Fashion Has Heart] (with partner Michael Hyacinthe), that pairs an artist with a veteran to share his or her story through design. When I meet people doing incredible things, I always like to learn more about what they're doing, who they are, and how they got into it. I hope you enjoy the interview, and be sure to check out the short video at the end of the blog.
Your home page bio says you graduated college - what was your degree in? Do you feel your degree/education has attributed to your success?
I graduated from Grand Valley State University with a degree in Advertising & Public Relations and a minor in Entrepreneurship. College was a big growth spurt for me. I was finally on my own and felt like I had to start from scratch with my life. That was when I started custom-designing shoes in my dorm room and taught myself the Adobe design programs. My "outside of the classroom" education pushed my "inside the classroom" education very well, and vice versa.
Your started out in uniquely designed footwear - how did you get into t-shirts and connected with Threadless?
My hand-painted shoes enabled me to do work for the likes of LeBron James, Chris Paul, Rip Hamilton, and others. I knew making these 1-of-1 wearable works of art was not a sustainable business model on its own. So, t-shirt design was a way I could leverage the best of both worlds: creative designs with the capacity to reproduce easily and cost-effectively.
I dabbled with t-shirts for a couple of years. I designed a couple collegiate-licensed designs sold to directly students and in bookstores, did some work with independent sneaker and streetwear boutiques in Michigan (All City Kicks and Revive), some branded apparel for Rip Hamilton, and other work for some small start-up brands like Dream Impossible.
Someone that I had known while at GVSU gave my info to fellow student Michael Hyacinthe, who I then began to discuss different ideas over a few cups of coffee. That was when [Fashion Has Heart] came about, and ultimately, the project with Threadless.
The recent release of Relentless is connected to the [Fashion Has Heart] project. Can you fill us in on what [Fashion Has Heart] is, how it started, and the goal of the project?
Michael Hyacinthe served 8 years in the U.S. Navy and was attending GVSU through his GI Bill, which helps veterans pay for school. Around that time his wife's cousin was killed in action. With Michael's experience as an entrepreneur, he felt the need and desire to do something. A mutual contact at GVSU connected us, and after a few cups of coffee, Michael came up with the idea to create a non-profit organization with a self-sustaining business model. He is the military side and I became the art/creative side.
The goal is to not only support wounded veterans through the mediums of art, design, and fashion but also to raise awareness within the creative arts community. Typically, these are two worlds that never meet and don't share many, if any, common characteristics. [Fashion Has Heart] is becoming the bridge between the two and creating that bond.
The Corporal Hoffman Series, which pairs a wounded Hero with an Artist to collaboratively share that Hero's story/message through art/design, has quickly become a powerful project series. We partner with a third-party company, such as Threadless in this case, to then produce their collaborative work into a product that goes back to fund the organization and its mission. At the end of the project, both the Heroes and Artists have a deep appreciation for each other. The Hero gets to experience the creative process and witness the Artist's talents in taking their story and creating a tangible image, which has shown to be a great form of art therapy. On the other side, the Artist sees first-hand the sacrifice that Hero has made. When someone is able to sit down with a person who has given themselves up like this, then the motto, "Without their sacrifice, there is no freedom of..." really begins to hit home. At that point, any political opinions or stance on war efforts are eliminated and humanity takes over.
In a nutshell, we directly touch and work with both the wounded veterans and the art community. Their collaborative effort is then produced and shared with a mass audience through art, design, and fashion. Our goal is to have an impact on all three audiences as a way to begin for people to put aside their differences and really begin to see people as people to begin building a more united and supportive community.
What inspires you?
I am inspired by good, well thought-out design and the idea of using it to benefit others. I can only imagine what life would be like if everyone used the talents they were blessed with to help others a bit more rather than just satisfy themselves or their careers.
What advice would you give to younger folks looking to get started in the t-shirt/fashion/apparel industry?
My advice for those trying to get started is just to start. Find something, somewhere just to gain experience. Whether through an internship, a job, or just on your own, it's important just to learn by doing. Don't be afraid to fail, because you will anyways. Just have fun and push yourself and enjoy the journey.
What is the biggest challenge you face on a day-to-day basis? How do you handle it?
At times, the biggest challenge is just to keep going. Then, during the other times, the biggest challenge is to slow down and make sure your priorities are in check. A healthy balance is key. Just keep going no matter what, but don't over do it by having it control your life and your relationships. Stay balanced!
Favorite color? Favorite season? Favorite place to be?
My favorite color has always been a hard answer for me. I like blues, I like greens, and I like reds, but I also love a good neutral gray. As for my favorite season, I absolutely love Fall in Michigan. I love the leaves changing color, the mild weather, the jeans and sweatshirts, football, and coffee. I love coffee.
My favorite place to be is on a porch overlooking a body of water. I love being around water and the idea of sipping on a coffee overlooking a beautiful lake makes me warm and fuzzy feeling every time. Throw in the people I care about most (and maybe some work simply because I love what I do), and I'd be one happy dude.