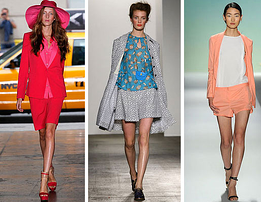 This summer, don't miss out on what's hot and trendy. Keeping up with fashion doesn't have to mean spending a lot of money, it just means keeping up with clothing trends so you'll know how to put your clothes together to create outfits that are flattering and eye-catching. Don't get caught not knowing what clothing trends are in this year! Here are a few ideas for summer wear this season.
Color
Color is everywhere this summer, and it's really the most noticeable clothing trend right now. A technique called "color blocking" has become quite popular. "Color blocking" means putting different colors together that complement each other. For instance, green and purple, or coral and yellow. Using this technique can create a look that keeps up with clothing trends, and is low maintenance. Chances are if you look in your closet, you can probably pair a top and some shorts from last summer together to create a whole new look that will be fashionable for this summer! Stay away from too much black; it's heavy and weighs you down. Light and bright is the way to go for summer shades this year.
Fabric
Light fabrics such as cotton, chiffon and even lace are popular this summer. Heavier fabrics are out and a more bohemian look is popular right now. You'll see women in flowing, floral maxi dresses and men in light cotton button up shirts or T-shirts. Floral prints are really popular for both sexes, thought obviously for men it will be more of a Hawaiian or tropical look and for women, the sky is the limit. Floral dresses, scarves and purses are really hot for summer so add some flowers to your wardrobe that are colorful and made of lightweight, comfortable fabric that will feel great next to your skin in the hot weather.
Denim
If you're going to wear denim this summer, check out colored jeans, shorts and Capri pants to stay up to date with clothing trends this summer. Everyone is wearing colorful denim, which instantly adds a fun pop to any outfit and can also be used to color block. Colors that are popular include neon pinks, orange, mint greens and blues. These colorful jeans scream summer, so grab a couple of hot hued pants to bring your summer wardrobe into the now.
Jackets
Lightweight jackets for both men and women are coming back into style this summer. These jackets should be tailored to fit you properly, and not overly big or baggy. Since it's warm outside, a lighter fabric such as cotton would be perfect, and a bright, colorful jacket or blazer can add some zest to a dark colored suit or dress. The great thing about blazers and jackets being a summer clothing trend is that they can be work with anything, whether it's a dressed up office look, or a going out nighttime casual look. If you opt to wear a jacket, keep your look simple or you'll overdo this clothing trend by cluttering the look with too many pieces or colors. Roll the sleeves, too!
Prints and Stripes
If you love prints and stripes, then this summer will be a lot of fun for you when it comes to clothing trends. From red and blue nautical stripes to animal and floral prints, patterns are really hot right now. Add a little pattern to your wardrobe to update your clothing trends, but not too much. A cool cotton top that has red and white stripes will look great on a summer day, or try a dress with a fun or edgy and colorful print. Men can get into prints too, and lots of brands are offering patterns and prints for both males and females this summer. Color and pattern are popular for everyone and there is a print that everyone can love. If you don't care for animal prints, try a geometric print or pattern.
Shine
A little bit of shine is great for summer. Shiny fabric can come in the form of a pretty scarf, a metallic skirt or pair of jeans, or a swirl in a shirt's pattern. Adding a little bit of shine updates your summer wardrobe and keeps it moving with today's current trends. You don't have to go overboard with glitter, but a sequin skirt looks great with a more subdued top, or even just some shiny silver or gold sandals if you don't want to go all out with shine. Make it shine this summer and stay stylish!