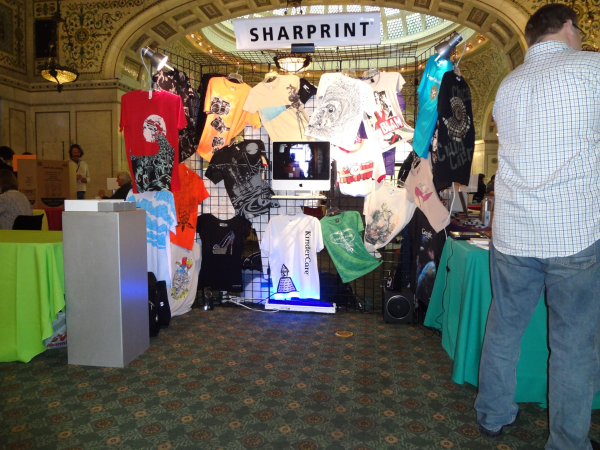 ***We're proud to announce the winner of our FREE printed t-shirt raffle! Drum roll...... Laura Joy of Filament Theatre! Congrats Laura - we look forward to printing up some shirts for you!
Last Friday and Saturday, March 24-25, Sharprint represented at the Chicago Creative Expo. George Kilian (owner), Todd Molzahn (VP of Sales), Jake Saunders (production artist) and myself (customer ambassador) were all in attendance. We had a huge and awesome booth that, although was in a really bad location, drew a number of stares. Was it the Jazz music that we projected through the echoey room? My epic rat tail? Or the fact that we were displaying some of the sickest shirts in screen printing? Maybe it was a bit of all three.

We met people from the Tribeca Flashpoint Academy, The Chicago Jazz Orchestra, The Apparel Industry Board, Art House Chicago, and a whole bunch more. Hopefully, we will get a chance to do some work for at least one of these rad organizations.

So, here is my critique of the expo. For a Creative Expo, I hoped to see more live art, more art in general really. I saw a lot of brochures, business cards, and boring booths. Where was the creativity? I hope next year there will be something to remember. Maybe a live painter in one of the halls, a collaboration on something between all of the booths, or a flash mob. Our booth was next to an insurance agency and a lawyer. All cool people for sure, but seriously? Let's bring it Chicago!