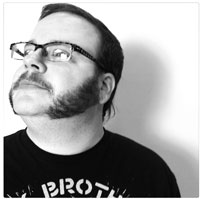 We here at Sharprint would like to introduce you to our newest member of the team, Zach Corn. As our newest Customer Ambassador, Zach will be here to help you with all of your decorated apparel needs. So, let's get to know Zach a little better...
The Zen diagram of Thrash Music/Youth/and My Career
It feels like since the day I was born it has been a constant struggle to find a healthy balance between the haggard, vagrant, miscreant lifestyle and the comfortable, bourgeois, upwardly mobile life I feel like I was meant to have.
When I first moved to Chicago I didn't know a lot of people aside from my room mate and his friends. They listened to soul music, drank a lot, and went to a lot of art shows. Good times, but I travelled a lot for work. Often I would come back from a week long trip to catch the tail end of a party. Over the course of that first year, I removed a lot of jewelry from holes in my face, became used to covering my tattoos with Banana Republic button downs, and even started trashing clothes when they had holes in them (GASP!). Some might call that growing up and I might even agree with them, but the thing that stung the most was my music. The gut scrambling, thought provoking, and maybe even a little bit obnoxious thrash music that had raised me wasn't fit for the crowds that I frequented. Maybe it was because peoples houses were a little closer together and neighbors a little less forgiving. One way or the other I lost a little bit of who I was.
Luckily, I was still in the decorated apparel industry...
I could be "Mr. Nice Guying" it up in my Khaki's and Blueberry Pique Polo shirt while my Hirax "Maniac" shirt was printing on our digital garment printer right behind me. Or maybe juggling a conversation with the buyer for a giant manufacturer and a conversation with a young couple about the best process for producing band tees. Being a part of the decorated apparel industry was helping me keep a foot in the world I grew up in. The world where tee shirts were always black and the music was always loud.
After a few years of that, I stepped out of the industry for a short period of time. It's surprising what 8 months working at an internet company can do to your tee shirt collection. I missed the smell of cooked tee shirts and spray tack. The sights and sounds of an eight armed tee shirt printing octopus hissing and spinning haunted my dreams. When I would see an old shirt I printed or noticed a new apparel company opening up in my neighborhood I knew I had to go back. Being a part of the decorated apparel industry hadn't kept me anywhere. I realized that putting studs on my jacket and sewing patches on to my clothes with dental floss WAS decorating apparel. Punk/Thrash/Metal was keeping me in the decorated apparel industry.
So here I am working as Sharprint's newest employee. Listening to G.I.S.M. on my headphones and sitting at a desk with a bunch of proofs pinned to the wall. Working with tangible objects that you can see and wear is a part of me. I have found my center. Holler at me if your band needs merch or you know of any good shows.