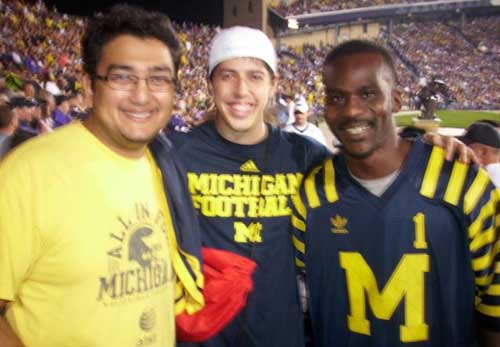 Tara's recent blog article, "What's the Big Deal About Printed Tee's?", got me thinking about why I dress the way I do. So I looked down to see what I was wearing. A blank black hooded sweatshirt, which was covering a navy blue t-shirt with the University "M" smack dab in the middle - a University whose sport programs I am a fan of.
This made me recall a brief moment from my previous weekend. A few friends and I got together to watch the UofM football game and one of my buddies came dressed in a plain long sleeve tee.
Why was this noticeable? Because he was the only one out of us who wasn't wearing a UofM decorated garment. Can anyone call themselves a true fan if they don't represent their team during game-time? Honestly, in my opinion, you can't.
To get back on topic, one of the reasons I wear what I wear is because I am a fan of a certain team (GO BLUE) and I want others to know it!
One of my favorite places on earth is at a tailgate. Thousands of people gathered together to cheer on one team or the other. And there is one thing that easily distinguishes which side of the ball each individual is on.
That one thing is a big deal. That one thing is the screen printed tee.