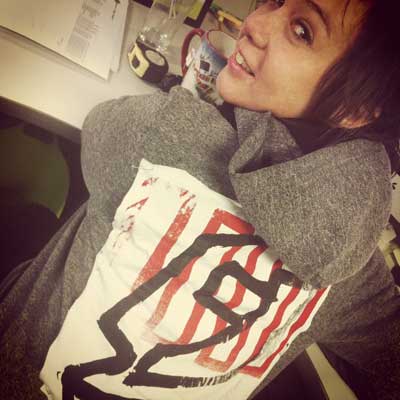 Every one has a great idea for a t-shirt. When some one I've recently met finds out I work at a print shop, inevitably the conversation goes like this:
"You know what would make a really great t-shirt? (Insert idea here)"
Sure, there is some cost involved to bring these brilliant t-shirt ideas to fruition if you want them professionally printed. Whatever you do, don't let dollars stop you from making your idea an actuality. There are 3 easy ways to make your own t-shirts for nothing or next to nothing:
SHARPIE
Grab a blank tee you already have and draw or write on it. A lot of the best ideas for t-shirts are clever phrases or smart little visuals. Keep it simple and your idea will be easily understood. The drawing or lettering doesn't have to be perfect - and in my opinion, shouldn't be. That's part of the charm! My very first custom made shirt was an undershirt of my dad's with "genius" written on it - I wrote the "g" backwards, of course. I've made scores of these cute word shirts to date.
SPRAY PAINT
Want to make a few t-shirts for you and some friends? Stencils are super easy to make out of heavyweight paper or card stock. Cut out the stencil, then spray it on a t-shirt. The paint won't wash out and the soft edges are a real cool aesthetic. I had a little comic zine back in Greensboro, NC and wanted to make some tees to give to my closest friends. A stencil, some paint, and a Hanes 5-pack got me a handful of consistent, yet unique Auscar Morbid tees.
HAND PRINTING
You can get a starter screen printing kit together at your local art/craft store for about $50. Use cheap thrift store tees or recycle your own - turn 'em inside out if you want a blank canvas. If you're prone to having great t-shirt ideas often, you may want to go with your own set up so you can bust out some t-shirts at a moments notice. I've lead some "print-at-home" workshops this year and we've used this method. Being loose and open-minded about the finished tee can result in some real happy accidents and killer tees!
I still make t-shirts all the time using these different methods even though I have the latest technology at my finger tips. The point is to have fun and share your ideas. T-shirts don't have to be a big production. After all, it is just a t-shirt :)