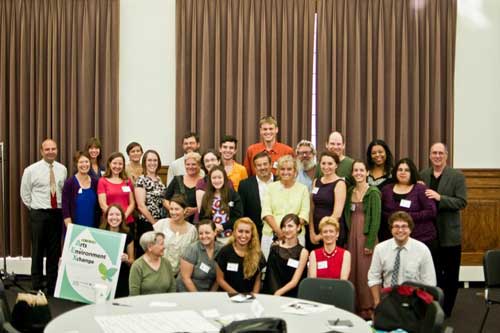 The Global Alliance of Artists is a collective of visual and performance artists committed to solving social and environmental challenges on a local, national, and international level by leveraging artists and creativity inherent in communities.
The GAA participated in a study conducted by the Field Museum in 2008 that suggested artists and social/environmental activism organizations possess tremendous potential for collaborating on environmental projects. (PDF of results here)
Recently, the GAA launched a new initiative - Chicago Arts + Environment Xchange. The Chicago Arts + Environment Exchange is a two-part program consisting of 1) an online space where art and environment groups can learn about each others' interests and post opportunities for collaboration, and 2) events where these groups can network, share information, and learn more about potential opportunities.
The topics covered at the launch ranged from education to activism, documentation to intergration, expression to impression. Here are some highlights:
Lora Lode discussed her Community Based Practices class at the School of the Art Institute of Chicago that focuses on environmental issues, planting and recycling.
Chicago ReUse Warehouse
City Farm
Alex Gallegos represented Marwen - a non-profit community organization whose goal is to educate and inspire under-served young people through the visual arts.
Marilyn Jones of Consolidated Printing shared some history and insight from her 35+ years in sustainable manufacturing.
George and I attended the launch to provide information on eco-friendly printing and sustainable/recycled/organic apparel options, but soon realized that we as individuals and a company can have a greater positive impact on the community even beyond providing organic apparel and safe printing. With everyone we came in contact with ideas started to gel, so we'll keep you posted!
Special thanks to Catherine Game of Global Alliance of Artists for organizing the event and creating the momentum!