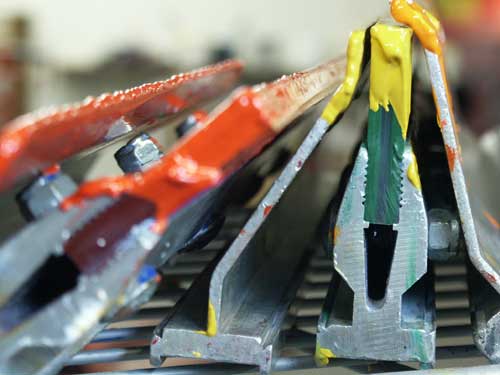 Joe Clarke has been an adviser of Sharprint's since we first stepped foot into the decorated apparel industry. Clarke designs, engineers and manufacturers new technology for the screen-printing industry. We have experimented with other vendor's squeegees, but time after time we stick with the high quality sqeegees that Clark Product Renovation has to offer. Joe is a great resource, which is why we reached out to him to write a guest blog about an area of his expertise, squeegees.
Article Written By: Joe Clarke
Have you ever ran into the technical or financial issues listed below? Technical issues are those traditional problems that confront the operator on-press and result in unnecessary costs in both lost time and damaged goods. Financial issues lists the specific areas of costs associated with the technical problems on press.
Clearing the Mesh
Dimensional Accuracy
Wet/Dry Artifacts
Color Accuracy
Consistency
Set-Up Time
Time-to-Color
Cycle Rate
Stoppage
Scrap Rate
CLEARING THE MESH
The secret is to have sufficient pressure between the mesh and the printing blade. Smilin' Jack™ [SJT] permits optimal off-contact settings without putting excess pressure at the edges of the mesh. The design of SJT will clear the mesh with less pressure and at higher print speeds than any traditional blade without popping the screen mesh.
DIMENSIONAL ACCURACY
Because SJT runs without buckling, there is very little drag on the screen mesh so image stretch in the stroke direction, or "creep" during the press run is minimal, even at lower tension levels.
WET/DRY ARTIFACTS
Every mesh count requires a precise and ideal ink volume. If we transfer excess ink, the image runs "rich" and exhibits wet artifacts—gain, blur, filling, mottling. If we transfer an insufficient amount the image runs "lean" and we find dry artifacts—streaks, faint images and mesh-mark texture. By using the prescribed mode with Dr.J [DJT] to precisely fill the cells and then the prescribed edge of SJT to transfer the ideal volume artifacts will be eliminated from the image.
COLOR ACCURACY
With SJT & DJT there are six discrete levels of ink volume, from minimum to maximum with four levels in between. This means if you ever get to press with a screen that is less than ideal, there is a very good chance you can achieve the proper color via volume control with the blades. Because the blades run at zero initial angles, there is no color variance during the press run to fill or transfer.
CONSISTENCY
Zero-angle, minimum pressure and maximum stroke speed with a bi-axial blade means the printed image consistency is unparalleled. Periodically wiping the screen will become a thing of the past. Whether it is corner to corner, shirt to shirt or shift to shift, JT and DJT will maintain a tight tolerance.
SET-UP TIME
Set-up time is spent on registration and eliminating wet & dry artifacts [see above] without having to go back for a re-shoot. Registration is simplified due to the low pressure with SJT, wet and dry artifacts are eliminated with the triple mode flood [SJT] and double-edged printing blade [SJT].
TIME-TO-COLOR
Time-to-color is always minimized with our six-levels of volume—three fill modes of Dr.J and two transfer edges of Smilin' Jack™. Use our Navigation Table to help you select the right mode and edge at the outset or to "tweak" the color once on press.
CYCLE RATE
The key to precise and consistent ink transfer is high stroke speed and with SJT & DJT the blades will never again cost you quality. Run the flood and print strokes at maximum [with minimum angle and pressure] for the finest looking prints you have seen, from single hit whites to simulated process color and everything in between will have the sharpest edges, saturated color and the best fiber matte-down you've seen.
STOPPAGE
Traditionally we stop periodically to wipe the underside of the screens or to re-align an image that has drifted. Zero-angle printing makes wiping a thing of the past; a tight seal is made with minimum pressure instantly after the ink is transferred, even at maximum speed—there is no seepage! Regarding re-aligning the screen our minimal pressure means no screen shift during the run.
SCRAP RATE
The biggest single reason for scrap is a popped screen. Our "smiles" on SJT and DJT are based upon your minimum tension level, maximum off-contact distance and minimum frame width. Both blades adapt to the resistance of the screen at all points, in both stroke and perpendicular directions. You are likely to double the life of any and all new screens.
You can expect Smilin' Jack™ and Dr.J to run hassle free for months and months so the cost of the pair is pennies per hour. If you have any questions or need additional information just drop us a line at info@cprknowsjack.com.